By Sea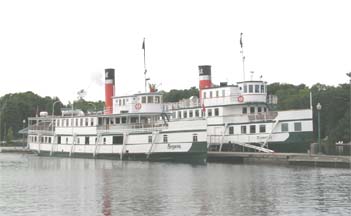 I must go down to the seas again, to the vagrant gypsy life,
To the gull's way and the whale's way, where the wind's like a whetted knife;
And all I ask is a merry yarn from a laughing fellow-rover,
And quiet sleep and a sweet dream when the long trick's over.
— Sea Fever by John Masefield
---
Shipboard Dreams
The rhythmic waves, the sweet-smelling air, the balmy breeze on your face; ah ... the simple pleasures and freedom of being on a ship.
02cruise.com Evan Eggers, President of 02.cruise.com is Talking Travel's regular "Cruise News" contributor.
Cruise2.com (Calling itself "The largest 'Not-For-Profit' Cruise Portal" on the Internet, this site has a wealth of information.)
Cruise.com (Check this site for cruise discounts.)
Windjammer.com (Known for its "barefoot adventures," this company's website and photos can make you smell the salt air.)
Cruise Direct Online.com (A comprehensive website that provides information on and links to the major cruise lines.)
The Freedom Ship A "City at Sea," this project is certainly "futuristic"; but also a bold concept worthy of study by everyone from urban designers to architects to sociologists.
CruiseMates This general information website provides many useful links including reviews of specific ships, shore activities, and Sanitation Reports by the Centers of Disease Control by cruise ships.