About Our Host and Talking Travel
---
Roy Lowey is a well-known, experienced veteran of the travel and tourism industry. He has many connections to "those in the know" in the business, and is a master of the art of person to person travel talk.
---
As Producer and Host of Talking Travel, Roy is the quintessential man with many irons in many fires. He also has many years experience in the airline industry both as marketing executive and owner.
As a pilot himself and a retired airline executive, Roy has many stories to tell. Few know of his involvement as a pioneer in the travel industry, especially in terms of airlines. For example, at one point in his career he was offering the only passenger air service from California to the Baja Peninsula. His airline companies Air Cortez and Pacific National Airways started out by flying nine-passenger twin Beech aircraft and then DC3s to what were then little known places in the region, many of which were important getaways for celebrity sports fishermen like Bing Crosby, as well as other Hollywood figures. Roy also operated a similar service out of Las Vegas to remote communities in Nevada. He has worked with some of the world's most illustrious travel and tourism leaders (Freddy Laker, Nicky Oberoi) and has operated every kind of tour operation you can think of from charter jets to managing group tours to the Dominican Republic. Roy has indeed been there, and done that, but never tires of discovering new opportunities in the industry. Talking Travel is just one of his latest forays into the 21st century of travel.
Recently Roy wrote and produced a "Sports for Kids TV" pilot for METV. He also directed the 2002 European Tour of the Broadway-style children's musical Pokemon Live. While living in California Roy acquired and distributed travel prizes for network game shows, primarily Hollywood Squares. Through his private company he continues to be the principal link between travel and tourism providers and some of the most successful game shows on television.
A pragmatist, a "people person," and a natural communicator (it's probably the Irish blood in him), Roy's industry experience, extensive network of travel contacts, and "traveler-friendly people skills" makes him one of America's foremost travel consumer advocates and travel resource specialists.
If you would like to contact Roy, you can email him at roy@ttrn.com.
---
The Talking Travel Photo Gallery
A day in the life of a radio show
"Are you sure you can get Charles and Camilla to do a phone-in?"
Roy often works incognito to pick up insider tips in the travel industry.
Every Wednesday, come Hell or high water, a loyal group of fans
gather on the St. Petersburg pier to listen to the show.
---
Florida's beautiful Suncoast: home to Talking Travel
Originating from the heart of this exquisite area of Florida, our show reaches listeners around the world.
In addition to its world-renowned beaches, the Sarasota area is famous for its visitor-friendly amenities, its art, theater, museums, wildlife and nature reserves, golf, and many water sports. Economically and commercially, the Suncoast is one of the most important niche markets in the United States. As you meander along the coast you pass through an eclectic blend of communities, each of which has its own distinct character and look.
Here are a few images of the area.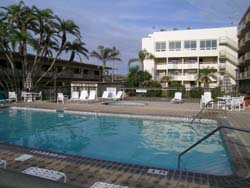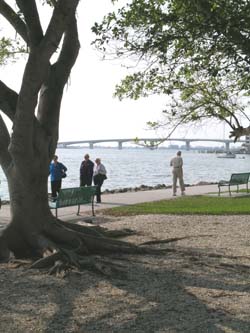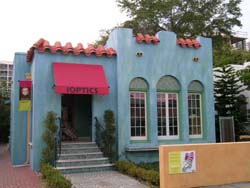 ---
And now ... back to our homepage
Photographs by Bob Fisher