The Shetland Islands
(photo courtesy VisitShetland.com)
---

These dialogues are recorded using Skype and Hotrecorder. Both programs are user-friendly ways for anyone to dialogue with friends, and colleagues anywhere n the world.
To hear a dialogue with Stan, click on the audioicon
Stan's Views and Reviews
The City of Durham UK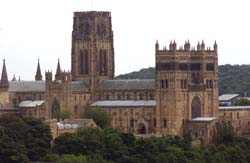 The Shetland Islands
---
Upcoming dialogues with Stan
The Faroe Islands

Creating a successful inflight magazine

Looking at Canada from a visitor's perspective

The world of aviation and global warming

Looking at Australia from a visitor's perspective

Why everyone loves the south of France

Norway's Arctic land and the midnight sun

Why you too should go to Iceland
Durham Cathedral
The Faroe Islands
Talking to Our Man Stan... in the UK
In these travel dialogues, Stan Abbott explores some of his favourite places; unique travel destinations in Great Britain and around the world
At the same time he provides consumer information and analysis for the contemporary traveller.
About Stan
Stan Abbott is founder and Executive Director of Gravity Consulting, a dynamic and eclectic firm in England that specializes (amongst other things) in communications, public relations, and marketing.
A Member of the Chartered Institute of Public Relations, Stan is multi-skilled as a writer and journalist, and public relations and marketing consultant.
He began his career in provincial newspapers in England, moving from reporting to sub-editing and design, alongside writing on a variety of subjects for national newspapers and magazines.
Through the 1980s and early 1990s, Stan ran a publishing and design house, specializing in the production of business-to-business and consumer magazines, and commissioning and publishing a range of books.
As Head of Marketing at Gill Airways, he learned how a relatively small regional airline could survive and thrive in the very competitive airline business against such giants as British Airways.
His contacts throughout the North East England business and political community — an increasingly popular destination within the UK — are second to none.
An accomplished crisis manager, with specialist knowledge of the particular needs of the airline industry, his efforts at Gill Airways earned him a CIPR Cream Award for Crisis Management in 1991.
In the course of his diversified career Stan has won a number of awards for his writing, editing and relaunching of publications.