May 2006: Anticipation
As the plane began its final descent towards Louis Armstrong International Airport, I watched anxiously through the low-lying clouds for the first signs of damage and destruction.
It was early May 2006, just eight months after Hurricane Katrina had cut a devastating swath through one of the cities I have come to love most — New Orleans. I was on my way to attend the annual New Orleans Jazz and Heritage Festival, or "Jazzfest" as it is more commonly known to jazz fans from around the world. Until just a few months prior to this event, second in importance only to Mardi Gras in the city's traditionally full calendar of annual activities, it had been unclear to me whether Jazzfest would actually take place at all. The Fairgrounds, just west of downtown New Orleans, had been under a few feet of water for weeks after the hurricane, and the surrounding City Park neighbourhood, while certainly not the worst hit by Katrina, had suffered some serious damage. But city officials and Jazzfest organizers were determined that the event should be held, and not just in a scaled-down version, as had been the case with Mardi Gras a couple of months before. With generous corporate funding, particularly from the oil giant Chevron, Jazzfest 2006 became a reality after all.
In addition to the usual full lineup of outstanding jazz, blues, zydeco, gospel, and Dixieland performers that usually grace the many stages at this festival, some very big names had been added this year. On the first weekend, prior to my arrival, Bob Dylan and Bruce Springsteen had performed. The second, three-day weekend, which I chose to attend, offered stars such as Lionel Ritchie, Jimmy Buffett, and Paul Simon. But I was particularly looking forward to seeing Antoine "Fats" Domino, a New Orleans native and legendary figure in the history of jazz and early rock 'n' roll.
Fats had been feared lost when his house in the Lower Ninth Ward, the area hardest-hit by Katrina had been swept away in the flood. But the announcement of his rescue had been one of the few "good news" stories to emerge from that dark time in New Orleans' recent history, and Jazzfest was to mark his first, triumphal appearance since then.
Concern For an Old Friend
But Jazzfest was not the only reason I was returning to New Orleans, exactly one year after the first time I had attended that musical and cultural event and renewed my long-running love affair with this great city. In the days and weeks after Katrina struck New Orleans and the Gulf Coast on August 29, 2005, I had watched media reports of the unfolding tragedy with feelings of sadness and horror. Now, a few months later, I wanted to see first-hand what had happened to this unique American city, how much of what I remembered of it was left, how local residents were coping in Katrina's aftermath, and most importantly, how the recovery and rebuilding efforts were progressing. I soon realized that in order to gain at least a partial answer to some of these questions, it would be necessary for me to leave the better-known parts of the city, in particular the French Quarter or vieux carré, and explore other areas where tourists do not normally go. And once Jazzfest was over, that is exactly what I did.
After checking into my hotel in the Central Business District, just across Canal Street from the French Quarter, I began to explore the city on foot on the way to dinner. I was interested to see if some of the local restaurants and stores that I remembered from previous visits were still operating. Sadly, I was soon to discover that Katrina had been particularly merciless towards smaller business establishments. The wonderful Half Shell Restaurant, just next door to Lenny's Picadilly Lounge, at the corner of University and Canal, was closed, with no sign that it would ever reopen. I remembered many excellent meals of "down home" Louisiana cuisine — red beans and rice, gumbo file, jambalaya, and fried chicken — that I had enjoyed at this totally unpretentious and friendly place. Just a year ago, it had been open and full of hungry customers, serving Jazzfest patrons at all hours of the day or night.
Turning on to Canal, one of the city's main business streets, I looked for the Praline Shop, a tiny storefront operation run by a warm and friendly woman who made her delicious candy confections by hand. It too was permanently closed, and I was later to find out that the owner had left her native city for Houston, perhaps never to return after losing everything she had ever worked for to Katrina. I recalled many friendly conversations with her on previous trips, and her quietly urging to me last time that I should just "steal away" from my home town of Toronto whenever I heard the beckoning call of the Crescent City. I wondered sadly whether she would ever be able to do the same again.
Determination and Endurance
Canal Street presented a puzzling mixture of normality and destruction. Several businesses remained closed with their storefronts boarded up, and large stretches of the street itself appeared run-down and neglected. But the major hotels, restaurants, and department stores were clearly still in business, if not exactly thriving. I crossed into the Quarter, and was instantly aware of the fact that Bourbon Street, the city's most famous (or some might say infamous) thoroughfare, was far less crowded than I ever remembered it being in the past. My first (but not last) dinner was at the Red Fish Grill, at 115 Bourbon Street, one of the city's finest seafood restaurants. That night I ordered the signature dish, hickory grilled redfish, a type of fish common in the Gulf of Mexico and widely caught off the coasts of Louisiana and Texas. The hickory imparted a delicious smoky flavour to the fish, which was fresh and tender. For dessert, I opted for the rich, decadent, chocolate bourbon pecan pie.
After that memorable first meal, a stroll through the Quarter was definitely in order. For me, the main attractions of New Orleans are easily summarized. They are, in no particular order, food, music, history, and culture. For those who love it, the city is like no other place in North America. Despite the many problems its residents had to confront, even before Katrina hit, and now so sadly magnified, it is truly a unique and special place. Here a number of distinct cultures including Native American, French, English, Spanish, Italian, and African-American are blended into a rich mixture or "gumbo" as the locals like to call it.
As I walked along Bourbon Street, I could not help noticing the many humorous commentaries on the hurricane and its aftermath, printed on t-shirts for sale in the local tourist shops. Many of them made pointed, satiric political comments about FEMA's handling of the disaster, while others exhibited the traditional New Orleans ability to find humour even in the face of tragedy and sorrow. Stopping in one of the many bars that line the street, where live or recorded music is played constantly, I listened to an old African-American blues man singing the "Hurricane Katrina Blues," a poignant song he had obviously written himself. I suppose it was then that the reality of this catastrophe and what it had meant for the people of New Orleans truly hit home for me. For now I wasn't just watching television coverage of the event or reading newspaper reports — I was actually here, to see for myself what had happened.
Just a short walk further along Bourbon I was able to find a place with a more upbeat mood, where traditional Dixieland jazz is on offer every night. This is Fritzel's, a small, German-theme hole-in-the-wall at 733 Bourbon St., where a rotating group of some of the city's most talented Dixieland players perform on a nightly basis. Fritzel's is a real gem on a street where jazz is becoming increasingly difficult to find. For a small cover charge, plus a donation to the glass jar passed around at the end of each set, I was able to enjoy a medley of Dixieland tunes, expertly and energetically played by a small combo that can barely fit into the tiny stage fronting the cozy room. It is clear from the radiant faces of the local jazzmen that their musical performances are a labour of love. Because of its German influences, a good selection of imported beers is available from the bar. While food is not usually available, one night after my only really disappointing meal in the city I was able to order a late-night snack of crackers, a selection of cheeses, and traditional alligator andouille sausage, the latter a delicious first-time eating experience for me! Tourists and locals alike flock to Fritzel's for their Dixieland fix — on a previous visit I shared a table with a boisterous group of young women from San Diego enjoying a weekend "bachelorette" party in New Orleans, accompanied by the bride-to-be's patient mother!
Back in the Swing of Things
Next morning, before departing for the first of my three days at Jazzfest, I had my initial New Orleans breakfast at the legendary Café du Monde, 800 Decatur St., just across from Jackson Square and the St. Louis Cathedral. Here the menu is simple — one orders the only thing available. This is a plate of delicious, sugar-dusted beignets (square French doughnuts), accompanied by a cup of rich chicory-laced café au lait, a New Orleans classic. Passing street performers entertain the customers while energetically trying to market their homemade CDs. My first impressions of the Quarter that morning were that it had sustained almost minimal damage from Katrina's wrath. A few trees surrounding the impressive statue of General (and later President) Andrew Jackson, the hero of the Battle of New Orleans, had been toppled, but one had to look long and hard for signs of any serious destruction. After savouring my beignets I continued in the direction of the French Market, and stopped in at the New Orleans Jazz Historical Park Visitor Center, at 916 N. Peters St.. This must be the smallest national park in the country — a site dedicated to preserving and promoting the musical form that is the city's greatest cultural gift to America and the world. Since Jazzfest was about to begin, the Visitor Center was offering a series of concerts by local musicians later that day. While looking at the permanent exhibit of old photos and other jazz-related memorabilia, I renewed my acquaintance with the Ranger on duty, who is also a musician. He informed me that despite appearances in the Quarter, over 80 per cent of the city was devastated, something that was hard to believe from where I stood on that morning. He urged me to find time during my stay in the city to have a first-hand look at the most seriously-damaged areas of the city, something I assured him I would do after Jazzfest was over.
My tickets for Jazzfest covered the three-day weekend beginning on Friday and ending on Sunday, with concerts taking place outdoors, rain or shine, at the Louisiana State Fairgrounds from 11 in the morning to 7 at night. A shuttle bus picked me up on Canal St., not far from my hotel. Since I had attended the 2005 Jazzfest, I knew how to prepare myself for the event. My first stop was at the Walgreen's Pharmacy on Canal, which stocked just about everything I would need, including sunscreen lotion. By far my wisest purchase, however, was a folding portable camp chair, which easily fit into a shoulder bag. These chairs are a staple of Jazzfest, and run from the basic, stool-like model to deluxe versions, complete with accompanying umbrella and handy armrests with holes in which you can place cold drinks. Since seating at the various Jazzfest venues is practically non-existent, except for those held inside big tents, the folding chairs are essential for enjoying the concerts in relative comfort.
During my three days there, the weather gods were mainly favourable. Despite threatening clouds that appeared on many occasions, I only experienced one serious downpour, which lasted for about half an hour before Paul Simon's concert on Sunday. Fortunately, the rain stopped just before he took the stage. And one day before, Jimmy Buffett's radiant stage presence had chased the clouds away, and bright sunlight filled the Fairgrounds as he began his lively set, concluding of course with a spirited rendition of his classic hit "Margaritaville."
And the Band Played On
I listened to a lot of great music over the course of my three days at Jazzfest. This included the legendary Cajun fiddler Doug Kershaw, rhythm and blues queens Koko Taylor and Irma Thomas, "Buckwheat" Zydeco, Allan Toussaint, The Dirty Dozen Brass Band, and a number of other local and nationally-known jazz ensembles. And I did not slacken my pace after returning to the city when the daily concerts at the Fairgrounds ended. After a short rest, I usually repaired to the Voodoo Two, the small bar attached to the hotel. Living up to its reputation as a party town, New Orleans bars maintain the tradition of Happy Hour, something that has become far less common in other cities. A cool pint of Abita, the local dark ale, went down well, as I planned my evening dining and listening activities. The bar's patrons were also interesting personalities. I met a contract worker from Texas, a transplanted Kentuckian, replete with white suit and sipping a mint julep on Derby Day, and a former Mississippi native who had just returned to the city. Everyone I talked to had a unique story to tell about his or her Katrina-related experiences, and strong opinions on what the future might hold for the city. But perhaps the most dramatic and poignant accounts I heard were those the hotel manager and his assistant on the front desk.
Reality Check
The woman who managed the front desk had lost her home and all her possessions to the flood waters that engulfed the suburb of Chalmette after the hurricane. This area was particularly hard hit, and she had been one of the few people in her neighbourhood who had taken out flood insurance. Despite the fact that she counted herself as one of the lucky ones in New Orleans, since she could expect a move into a new house soon, she told us that she had suffered from chronic bouts of depression in the months following Katrina. This was because no amount of insurance could ever replace the personal possessions and mementos, including all the photos or her children and grandchildren, that had now been lost forever.
This area was particularly hard hit, and she had been one of the few people in her neighbourhood who had taken out flood insurance. Despite the fact that she counted herself as one of the lucky ones in New Orleans, since she could expect a move into a new house soon, she told us that she had suffered from chronic bouts of depression in the months following Katrina.
This was because no amount of insurance could ever replace the personal possessions and mementos, including all the photos or her children and grandchildren, that had now been lost forever.
If Hollywood ever makes a film version of Hurricane Katrina and its impact on New Orleans, the director should definitely talk to the hotel manager at the Comfort Inn Suites on Baronne St. This man's experiences during that time were nothing short of heroic.
Peter Flaherty
Peter Flaherty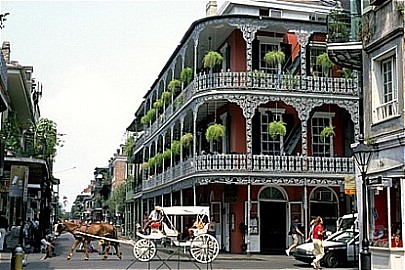 Peter Flaherty
Peter Flaherty
Peter Flaherty
Peter Flaherty
Peter Flaherty
He personally saved the lives of an Argentinean family, stranded at the hotel with no way of fleeing Katrina. After ensuring the safe departure of all his other guests, he waded through waist-deep water to find a National Guard detachment that removed them to the New Orleans Convention Center. What he and this family, including a small baby, experienced there over the next few days sounded like a vision of hell on earth. He saw the desperation, filth, overcrowding, and violence of that place, including the dead bodies of murder victims, left to rot on the ground. His pleas to the National Guard to evacuate the Argentineans met with no response until it became obvious that the baby was in danger of dying from dehydration. At that point, the military agreed to escort them to a rendezvous point close to the airport, where the hotel manager had arranged for his wife to meet them in her car. But the only way the National Guard agreed to transport the group was if they lay face down in the rear of a flatbed truck, covered by tarpaulins. In this way, it would appear that the truck was transporting dead bodies from the Convention Center for disposal, and marauding gangs of looters would not shoot at the convoy, hoping to gain rescue access themselves.
Eventually, the hotel manager was able to reach his home in Kenner, an area near the airport that had not suffered too much hurricane damage. There he hosted his new Argentinean friends until the airport reopened and they were able to return home. He told me that the family planned to return to New Orleans later this year, to renew their friendship with the man who had clearly saved all of their lives. This is just one of what must be many stories like this, of everyday people acting in remarkably non-everyday ways in the face of tragedy, chaos, and danger.
Undefeatable New Orleans
Stories such as these made me all the more determined not to be a typical tourist in New Orleans, only visiting areas that had been least touched by the disaster. There was not enough time for me to revisit the New Orleans Museum of Art and the lovely accompanying Botanical Garden, with its great collection of sculptures, located in the City Park area adjacent to the Fairgrounds. And I was also unable to return to the beautiful Garden District, southwest of the French Quarter, an area full of stately homes, sprawling parks, and magnificent live oak trees. I recalled taking the legendary St. Charles streetcar all the way to the end of the line at Carrollton Ave, where the original streetcar named Desire, made famous in Tennessee Williams' play — now out of service — can be seen. On an earlier visit, I had also enjoyed a walking tour of the historic St. Louis Cemetery Number 1, where a number of famous city residents, including the famous voodoo queen Marie Leveau, rest in above-ground crypts. Marie's tomb daily receives offerings of fresh flowers and good luck charms from local believers. Lying next to her is Ernest "Dutch" Morial, the first African-American to be elected mayor of the city in 1978. Many believe that the former mayor chose his final resting place strategically, adjacent to that renowned 19th century healer.
The tour also includes a stop at Congo Square, so named because slaves used to frequent it on Sundays, their only day off, to sing, dance, and play traditional African instruments. It is believed that this is the birthplace of jazz, and the statue of Louis Armstrong in the small park named after him, next to Congo Square, pays tribute to that fact.
A Unique and Distinct Subculture
Voodoo is another aspect of New Orleans culture that attracts great interest from visitors, and local residents are more than happy to market it to them in one form or another. An indigenous West African religion, it was brought to the New World by slaves, and took root in New Orleans more strongly than in any other part of the United States. Voodoo priests like Doctor John and priestesses such as Marie Leveau attained great renown and popularity in the 19th century for their healing abilities, as well as inspiring fear for their potentially harmful powers and illicit ceremonies. It was claimed, for example, that Marie Leveau and her followers used to indulge in wild orgies in the bayous just outside the city, where they danced naked around bonfires, drinking blood, and slithering on the ground like the snakes they used in their voodoo rituals. How much of this is actually true and what can be attributed to hearsay and legend remains unclear to this day. But despite its mass marketing into a tourist commodity, voodoo retains its hold on the imaginations of many New Orleans residents.
At 828 N. Rampart St., just across from Congo Square, Priestess Miriam Williams operates her Voodoo Spiritual Temple, which she founded in 1990. Inside this dimly lit sanctuary, one can see small statues of various gods and goddesses of the Voodoo pantheon, each one replete with offerings like cigarettes, liquor, money, candles, toys, and photographs. A snake relaxes in a nearby room, and Miriam will sometimes remove it from its glass case and wrap it around her arms. At the conclusion of my visit, Miriam gave a short talk on the essence of Voodoo, seeking to dispel some of the prejudices and misconceptions many have of this ancient religious practice. She told, "It's alright that people have a false opinion of voodoo, because all conceptions are initially false. Every thought is a misconception until something in it touches the thinker in some way. That's what voodoo is like. It is silent. It is an energy that vibrates into our minds."
I retain an open mind about voodoo and its associated powers. While somewhat skeptical of the way the religion has been marketed and sold to credulous tourists who do not have much in-depth understanding of its teachings and practices, I have a healthy respect for the sincerity of those like Miriam Williams who believe in it. On my first visit to New Orleans, over New Years, another lively time in the city with the annual Cotton Bowl game and riotous New Years' Eve celebrations on Bourbon St., I had strolled the old streets of the Quarter on the last day of the year. Stately African-American women clad in flowing white robes and wearing elaborately-wrapped bandanas on their heads walked through the crowds, blowing smoke onto passersby from the thick cigars they were smoking. I learned that this was a ritual designed to ensure good luck and prosperity in the year to come. But what I did not know was that these women did not welcome photographs being taken of them while they conducted their ceremonies. On snapping a shot, I earned a very angry look from one of them, accompanied by a hand gesture whose meaning I could not determine. On returning home some time later, I had the pictures I had taken developed at the local pharmacy. All of the French Quarter shots I had taken that day turned out perfectly, except for the one I had taken of the voodoo priestesses. It remained totally black!
New Orleans is a city rich in history, and its turbulent and checkered past is well preserved in the city's outstanding collection of museums and other historic houses. Under French and Spanish rule before being ceded to the United States as a result of the Louisiana Purchase in 1804, the city has played a major role in the economic, social, political, and cultural history of the United States. It is for this reason that many proud residents of the city harbour some resentment over what they view as the tardy and largely inadequate response of the federal government, and in particular FEMA, to the tragedy that engulfed their city in late August 2005.
The New Orleans Tourist Marketing Corporation publishes a handy booklet entitled "Museums of New Orleans," conveniently listing the major points of historical interest for the visitor. Among them I would recommend the Historic New Orleans Collection, housed in a complex of historic buildings on Royal Street, in my view the most attractive street in the Quarter. It includes the historic Merieult House, built in 1792 and one of the oldest residences in the city, the History Galleries, containing a number of artifacts reflecting aspects of New Orleans life in the 18th and 19th centuries, and the Williams House. This is a beautiful late-19th-century townhouse restored by General L. Kemper Williams, a prosperous local resident. It has elegant courtyard gardens, a stately dining room, a magnificent library panelled in cypress wood, and many rooms stuffed with antiques and period pieces. Here you can truly gain an appreciation of what life must have been like for the city's cultured élite in the period when the city was earning itself an international reputation as "the place that care forgot."
The Historic New Orleans Collection also hosts a number of rotating exhibitions. On my last visit, there was a fascinating exhibit entitled "Colonial Saint Domingue: A Louisiana Heritage Story." This chronicled the significant connections between the former French colony of St. Domingue, now Haiti, and Louisiana, dating from the end of the 18th century. The great slave revolt of St. Domingue, which had resulted in Haiti's winning freedom from its colonial master, had sent shock waves throughout the Caribbean, and New Orleans was not immune. Many French and Creole slave-owners fled to Louisiana, sometimes accompanied by their slaves, and became an important part of the city's commercial and cultural life. Also, the many slaves in New Orleans, who had learned about the successful revolt in Haiti, were inspired to resist their own oppression, by fleeing or sometimes engaging in violent actions of their own. The exhibit contained a number of valuable artifacts, paintings, and original documents, some on loan from Haiti and others from museums in France. Officials in these countries, concerned about the safety of these items, had asked for solid assurances that the exhibit, due to end on June 30, 2006, would not coincide with the onset of yet another hurricane season in the Gulf Coast.
Some of the most important and interesting features of Louisiana and New Orleans history can be appreciated in the five buildings that house the Louisiana State Museum, all of them conveniently located within walking distance of each other in the French Quarter. The visitor should start with the Cabildo, the colonial Spanish-era city hall, and the site of the official signing of the Louisiana Purchase agreement between French and American diplomats in 1803. This museum tells the story of Louisiana's history from the time of its indigenous Native Americans through the periods of French colonization, Spanish rule, slavery and the antebellum era, the Civil War, and Reconstruction. There is a death mask of Napoleon Bonaparte, a wall-sized mural depicting Andrew Jackson's victory over the British at the Battle of New Orleans in 1814, and paintings by the renowned artist Jose de Salazar. The day I visited, I enjoyed some spirited but friendly repartee with the tour guide over conflicting Canadian and American interpretations of the history of the War of 1812.
In the nearby presbytère, originally built as the rectory for the adjacent St. Louis Cathedral, and later used as a courthouse, there is a permanent exhibit chronicling the history of what is no doubt the most famous celebration to take place annually in New Orleans — Mardi Gras. Titled "It's Carnival Time In New Orleans," this exhibit is a must-see for anyone who wants to understand the origins, contemporary practices, and significance of this observance for the city and its people. All the main topics are on display, including elaborate and colourful masks and costumes, parade floats, feathered Mardi Gras Indian suits, and a number of fascinating historic photos depicting the evolution of the festivities over the decades. There are also a number of documentary videos that give the viewer a real impression of what it must be like to be a participant in the parade. In the gift shop, it is possible to purchase beads, masks, and other Mardi Gras memorabilia I spent a rainy Saturday morning wandering around this remarkable exhibit, which I had practically to myself. I particularly admired the "Crown Jewels Vault," where one can gaze in wonder at the astonishing array of glittering accessories worn by the Carnival Kings and Queens, including gem-studded crowns, flowing robes, and ornate scepters.
Further east, just past the French Market, is the Old U.S. Mint, the only American mint that produced both Union and Confederate coins during the Civil War. It offers a number of interesting rotating exhibits, but its permanent exhibition, entitled "New Orleans Jazz," is a world-renowned collection of old photos, period instruments, recordings, sheet music, and other jazz-related artifacts. Among the most memorable of these are the trumpet and bugle that Louis Armstrong learned to play on, New Orleans jazz great Edward "Kid" Ory's trombone, and Dizzy Gillespie's "bent-bell" trumpet.
The nearby French Market is also worth a visit. In operation as a public market since the late 18th century, it was completely restored as a WPA project during the Depression era of the 1930s. Here you can purchase all kinds of delicacies, including the city's famous pralines, red beans and rice mixtures, and spicy sauces ranging from mild to inferno-like in intensity. There are also souvenirs, arts and crafts, and colourful paintings and photograph reproductions for sale
Heading back toward Jackson Square, you can also take in the 1850 House, located in the Lower Pontalba Building, decorated with mid-19th century artifacts that tell the story of the life of a prosperous New Orleans family, headed by the legendary Madame Michaela Pontalba. Born into a wealthy Spanish family in 1795, Micaela entered into an arranged marriage with her cousin Xavier Celestin de Pontalba at the age of 16 and went to live in Paris with his family. Despite the fact they had three children together, theirs was a loveless marriage. Before their first son was born, her husband demanded she sign over her fortune to him. When she refused, they separated. However, she was unwilling to relinquish her share of the Pontalba riches. Her father-in-law shot her and then committed suicide. But Micaela survived, and returned to New Orleans with two of her sons, where she played a major role in the redevelopment of Jackson Square, at the same time accumulating an even greater fortune.
Glorious New Orleans Food
In addition to its rich history and culture, New Orleans is a city of diverse culinary traditions. Here it is possible to dine on home-style Cajun fare, African-American soul food, traditional Italian pasta dishes, and elegant Creole cuisine. After my visit to the Café du Monde, my breakfasts before departing for Jazzfest were more substantial, and all enjoyed at the Old Coffee Pot at 714 St. Peter St., just south of the legendary Preservation Hall. Here the friendly staff welcomed me as an old friend as I took my seat at tables set up in an attractive little courtyard adjacent to the restaurant's main dining room. Excellent coffee was quick to arrive, followed soon after by a delicious breakfast, including choices such as pain perdu (New Orleans-style French toast), scrambled eggs, bacon, and buttermilk biscuits, or a Cajun omelette, stuffed with sweet peppers and andouille sausage. After such a substantial meal, I found it easy to pass on a sit-down lunch, and graze instead on some of the delicious snacks available on the Jazzfest grounds at the many food stalls. I particularly liked Crawfish Monica, one of the hits of Jazzfest, a mouth-watering macaroni dish covered in crawfish, a traditional New Orleans delicacy. Other treats included pheasant, quail, or andouille sausage gumbo file red beans and rice with sausage, po'boys, traditional New Orleans sandwiches stuffed with cochon du lait (pulled pork) or soft shell crabs, and a toothsome strawberry shortcake. It was a good thing that the many venues of Jazzfest were spaced apart from each other, requiring at least some walking after feasting on such a variety of local delicacies.
I wanted to have at least one truly outstanding dinner in New Orleans, and tried to find a table at two of the city's popular establishments, the Palace Café at 606 Canal St. and Irene's, at 539 St. Philip S. in the French Quarter. Unfortunately, both were solidly booked on the Saturday night I went there. While wandering through the Quarter in search of a likely place to eat, I happened to notice a sign pointing to Antoine's, near the corner of Royal and St. Louis streets. Acting on a whim, I entered this temple of classic French-inspired New Orleans cuisine, believed to be the oldest restaurant in the United States, and the place where Oysters Rockefeller was invented. Surprisingly, there was ample space in the elegantly appointed main dining room, and somewhat hesitant about what the cost of a memorable meal was likely to be, I entered and was seated by a maître d' immaculately dressed in a jacket and tie. Here I dined on a mouth-watering gumbo Creole, rich in blue crabs, oysters, and gulf shrimp, a delicious crawfish bisque, grilled soft shell crabs, served in hot melted butter. Accompanied by a bottle of Beaujolais wine, and followed by a toasted meringue, drenched in vanilla ice cream and chocolate fudge sauce, it was truly a meal to savour and remember! I concluded with shots of cognac, all the while musing the fact that I had actually succeeded in dining in one of the most renowned establishments in the country. And when the check finally came, I was also pleased to discover that my indulgence had not in fact been that costly after all!
The Universal Language of Music
After such a meal, I needed to walk, and the distance from the French Quarter to Frenchmen St. in the adjoining Faubourg Marigny district was sufficient to remove at least some of the calories I had taken on. With the relative lack of places to hear great jazz on Bourbon St., Frenchmen St. has become a great venue for both locals and tourists alike to enjoy this wonderful music in appealing surroundings. One night I listened to an energetic swing band fronted by a guitar-playing singer called "St. Louis Slim" at the Spotted Cat, 623 Frenchmen St. Another time I enjoyed a great performance by an ad-hoc group at Snug Harbor, 626 Frenchmen St., one of the city's premier jazz establishments. While there, I recalled my last visit, during Jazzfest 2005, when a trio of outstanding pianists, including the famous Marcia Ball, had played. Marcia's rendition of Randy Newman's moving and evocative "Louisiana 1927" tells the story of a disastrous flood that struck the state in that year. It had left a strong impression on me. Little could I have known then that the song would gain even an even greater resonance and poignancy in the aftermath of Katrina.
But perhaps the most memorable evening I spent in New Orleans took place at what must be the "Mecca" of jazz connoisseurs in the city — Preservation Hall, a heritage building located at 726 St. Peter St. in the heart of the Quarter. Formed in 1961 as the Society for the Preservation of Jazz in New Orleans, this is truly the place to experience traditional jazz in its purest form. Despite the fact that most of those in attendance are tourists — jazz lovers from all over the world — Preservation Hall lives up to its name, preserving what is best in this great musical idiom. The night I visited, the hall's usual policies of limiting the audience to one set, and not selling drinks, had both been thankfully altered, perhaps in recognition of the post-Katrina tourist realities confronting the city. A small bar was set up outside, where the bartender gladly poured me a double shot of Jack Daniels when he heard I was from Canada. Inside the hall itself, a group of excellent musicians, many of them quite elderly, played all the Dixieland jazz standards, with no electronic amplification to speak of. When the singer announced that the group would play "Do you know what it means to miss New Orleans," he dedicated it to all the residents Katrina had rendered homeless, and who had as yet been unable to return to their beloved city. It was a magical moment, and after sharing in the group's spare but heartfelt rendition of that bittersweet song, I knew that I would never again be able to hear it the same way.
Experiential New Orleans
On my last day in New Orleans, with Jazzfest over, I asked at the front desk of the hotel whether it would be possible to see the devastated areas of the city. After a few phone calls, the desk clerk was able to find me a taxi driver willing to take me on a two-hour escorted tour.
Heading out of the downtown area, we crossed the Inner Harbor Canal, and were soon confronted with scenes of utter destruction in the Lower Ninth Ward. Everywhere I looked I saw wooden houses smashed to smithereens, cars overturned, debris scattered everywhere, and only a few people remaining in the area, scavenging the remains of what once were their homes for whatever valuables they could find. We stopped so that I could take pictures, at first a little apprehensively, not knowing how local residents would react to my "disaster tourism." But the driver assured me that those who had lost everything to Katrina actually wanted outsiders to gain a first-hand impression of what they had suffered, and that I should not worry.
Anxious not to drive over the nails that were scattered all over the roads, he took me through the various parishes of the Lower Ninth Ward and into the nearby suburb of Chalmette, once a prosperous neighbourhood but now a scene of total destruction. Shopping malls stood empty, block upon block of houses were reduced to mould-infested shells, and those who had returned were now living in what seemed like endless blocks of FEMA trailers. I wondered what would happen if another hurricane equivalent in destructive force to Katrina would strike again this year, and if the repairs on the levees that had flooded so disastrously last year had been completed.
Further north, on the shore of Lake Ponchartrain, I witnessed even more heart-breaking ruins, this time in the more upscale area of Lake Vista estates and other gated communities. The marina, where prosperous New Orleans residents had once docked their boats, was now a scene of total chaos, with yachts upturned on the road or smashed to pieces in what had once been their moorings. On street after street, I saw the telltale brownish-yellow marks streaked across houses that showed where the high-water line had reached in the days following the hurricane. All around, an eerie silence prevailed, punctuated only by the sound of birds calling to each other. Stepping out to take more photos on a hot, humid day, in what had once been a thriving neighbourhood full of families going about their business, I was struck by the sheer scale of the disaster. How indeed could this once great, if troubled, city ever recover from this almost inconceivable cataclysm? How would those who had been forced to leave ever be able to pick up the pieces of their shattered lives again?
During the Jazzfest concerts, there had been many brave statements from musicians and organizers that the fact that the festival was taking place at all was proof that the city was back and on the road to recovery. As much as I wanted to believe these claims, what I witnessed on my last day had shaken my confidence that any substantial progress could take place in the immediate future. Over eight months after Katrina had struck, much of the city looked as it if had been devastated only yesterday. Debris and garbage lay uncollected, because the city lacked the tax base to hire more sanitation workers, and had actually been forced to lay some of them off. Many of those who had formed the backbone of the city's work force had departed, perhaps for ever, and were being replaced by new arrivals from Mexico, eager to find employment in low-paying jobs. The newly re-elected Mayor, Ray Nagin, had spoken eloquently of his city's plight in the days after Katrina, and had recently won another term in office, narrowly defeating his old political rival Mitch Landrieu, on a promise to rebuild and restore the city to its former state. One of the more surreal aspects of my visit to the devastated communities had been the fact that abandoned houses were bedecked with election signs for various candidates in the race.
The Politics of Disaster
By mid-June the long-awaited federal housing aid grant of $10.4 billion was announced by President Bush. Many who had lost their homes could now expect the cheques they had been promised. Some people, impatient to rebuild their lives, had already returned to the areas most hard-hit by Katrina, and were living almost like pioneers amid scenes of destruction and almost non-existent social services. But squabbles among the various levels of government — federal, state, and municipal — and the lack of any clear master plan for the rebuilding of the city left many in a state of confusion and uncertainty. The anniversary of Katrina, and even more ominously, the onset of what was expected to be another destructive hurricane season were both approaching as New Orleans residents and those like me who love the city and want to see it rebuilt wondered what lay in store for it.
What would eventually emerge from the proposed rebuilding plans? Would it ever resemble what it had once been? Would the problems of poverty, crime, and inner-city despair that had once plagued it return with its dispersed population? Or would it become a kind of Las Vegas-style theme park, preserving tourist areas like the French Quarter but turning devastated zones like the Lower Ninth Ward into massive, soulless blocks of bleak public housing projects?
The New Orleans Promise
As my homeward-bound plane took off, I made a promise to the Crescent City to monitor its progress while hoping for the best in the months to come. Shortly after returning home I listened to a CD that I had purchased there, a benefit album called "Our New Orleans, 2005," containing selections from many of the performers I had just seen at Jazzfest. As I listened, I already knew what it meant to miss New Orleans, and was beginning to think about my next visit, perhaps an even more extended stay next spring.
---
Postscript
Shortly before Fats Domino was slated to make his long-awaited appearance as the closing act of Jazzfest 2006, it was announced that he had been rushed to the hospital and would not be able to perform. Already in poor health before Katrina hit, Fats had never really recovered from the shock of Katrina and the days he spent in his flooded house waiting to be rescued. It was a great disappointment to the many fans who had hoped to see him sing and play his traditional "stride" piano tunes, like "Blueberry Hill" and "I'm walking to New Orleans." But although he didn't perform, Fats did insist on leaving ths hosptial in order to make a brief appearance on stage that day, to wish the huge crowd well and express his confidence that his beloved city will see better days in the future. In a way, Fats Domino personifies New Orleans today — badly hurt, but not ready to give up hope.