Landscape as art
The Texas Hill and River Country is a land of shapes, designs, texture and color harboring a multitude of wildflowers, wildlife and water. Because of this natural abundance, the area offers visitors a diversity of outdoor activities from traditional hunting, fishing and birding to hiking, biking, kayaking and canoeing.

For many, the splendor of the Texas hillsides in spring easily competes with the likes of the Palouse agriscape in Washington State or the Tuscan countryside of Italy. Unfortunately, the rustic beauty and grandeur of Central Texas has largely been off-limits to the public since over 90 per cent of the land is privately owned. However, that is starting to change in a big "Texas-way."
Private ranches open lands to photographers
Ranchers, landowners, and the State of Texas have come together with an initiative designed to open up these lands to the lens. Rural hill towns such as Brady, Eden, Junction, Menard and San Saba are joining forces to offer the authentic Texas experience to more than just hunters; they are actively courting outdoor nature photographers and birders to experience the wonders of wildflowers and wildlife in the Texas Hill Country.
Vision
Many properties such as CAVU offer excellent accommodations and amenities, along with guided wildlife walks and photography tours of lands seldom seen by the public. (CAVU is an abbreviation for "Clear and Visibility Unlimited" given by its owners and former pilots).

Lynn Foreman, owner of CAVU says, "CAVU provides access to Mother Nature for people from different walks of life and different parts of the country." Foreman adds that there are four-season activities that should appeal to almost everyone including birding, biking, hiking, walking, cycling and of course, photography.
Lens on Wildflowers and Wildlife
While staying in the "Cool Cabin" at CAVU, I simply walk out my front door to photograph the myriad of wildflowers on the property. Prairie verbena is everywhere, accented by Texas bluebonnet, Nodding thistle, Silverleaf nightshade and Indian paintbrush.

Our guides at CAVU are locally-based outdoor photographer Rod Gardner and Miles Phillips, a State Program Leader in Nature Tourism with the Texas Cooperative Extension. After an early morning orientation session along with photography pointers, Gardner leads our small group out for the endless photo ops on site. We start with a silent session sitting in one of four bird blinds on property. Next, we go to CAVU canyon with its ancient limestone walls and embedded fossil shells. Then it is by mule to the plateau top teaming with prickly pear cactus flowers and birds.

Having first picked him up by his song, Phillips astutely points out the colorful Painted Bunting flying amidst the tree canopy. The male is staking out territory while trying to win the affections of a nearby female. Besides the Painted Bunting, Phillips explains that other bird sightings can include the Vermillion Flycatcher, Indigo Bunting as well as the endangered Golden-cheeked Warbler and Black-capped Vireo. Wildlife photography can include whitetail deer, Rio Grande wild turkey, armadillo, bobcats, coyote, and red and gray fox. Exotic and domestic species abound as well, such as Watuzi cattle, emus — and Dee my favorite donkey at CAVU.
Pictograph Photography
On a different day, Gardner takes me to Menard County for a bit of history. The Presidio de San Saba was the largest Spanish Fort in Texas and probably one of the shortest in existence. Established in 1757, the Presidio was destroyed a year later, in 1758, by a raiding party of over 2000 Comanche, Caddo, and Wichita Indians. He leads me to the west Presidio entrance. "This is where Jim Bowie's name is carved," says Gardner. "However, the correct spelling of his name is Bouie." It's another photo op.

Day trips to various photography sites are also available in the Texas Hill Country. For example, in Concho County, former "Sheep Capital of the Nation," there are over 1500 prehistoric pictographs created by nomadic Indians during the last 12,000 years.

Located on a limestone bluff overlooking the Concho River, the site is on private land that is accessible through a pre-arranged guided tour with Paint Rock Excursions. The owner and guide, Kay Campbell, explains the different groups of characters and what they may mean as she identifies the best spots for photos. Campbell also steers you clear of rattlesnake dens and habitat — a vital skill in this part of the country.
Of Rivers, Streams and Waters
Known as "Former Outlaw Country," Kimble County has hundreds of natural springs feeding both the North and South Llano Rivers. Within the county lies the small town of Junction, claiming to have more flowing streams than any other Texas county. As a result, the combination of abundant water and lush valleys of the Llanos creates a haven for year-round water activities. For example, Peacemaker River Expeditions can arrange for guided canoeing, tubing, kayaking and fly-fishing excursions.

Be sure to explore the water's edge with your camera, looking for darting dragonflies, flitting butterflies, and colorful caterpillars. A macro lens can extend your subject-matter possibilities and result in unique and artistic images that will dazzle friends and family.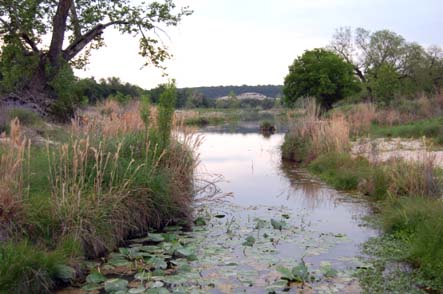 Heart of Texas
The geographic center of Texas is the rural town of Brady located on the Old Dodge Cattle Trail. This town offers numerous iconic photo ops to capture images with the look and feel of small town Texas. Of prime interest is the McCulloch County Courthouse, an 1899 circa native stone structure built in the Romanesque Revival style.

Eden, on the other hand, lays claim to being the geodetic heart of Texas. So, according to Genora Young, Economic Development Director for Eden, that puts it roughly in the middle of Texas — deep in the heart of Texas, the place where deer and antelope play; where wheat grows; cattle, sheep and goats graze; and the people are down-right friendly. The West of Eden town square offers another photo op of quintessential rural town life.
Texas Fare
Though photography may capture the spirit of place of the Texas Hills and River Region, one must also taste the flavors of Texas. And though the fast food of Sonics and Dairy Queens definitely define the rural Texas town for easy and inexpensive eats — also harbingers of economic success for small towns — the local eateries offer true Texas fare.

For great "Tex Mex" be sure to grab a breakfast burrito at the Burrito Express in Brady. For Chicken-Fried Steak, a Texas favorite, head to Isaack Restaurant in Junction or City Limits South of the Border in Eden. (City Limits also has great "Tex Mex.") And to satisfy your sweet tooth, be sure to stop at the Sunshine Café & Bakery in Junction for a huge slice of tangy lemon meringue pie; enough to share for two.
Going Nuts Over Central Texas
Did you know that the United States produces about eighty per cent of the world's pecans? It's no wonder then that the pecan tree is the official Texas State Tree, with San Saba County claiming the title of the "Pecan Capital of the World." Second in production only to the state of Georgia, Texas produces some of the highest quality pecans available today.

Though native pecan trees flourished along the banks of the San Saba in the 1800s, it wasn't until Edmond E. Risien founded his West Texas Pecan Nursery in 1888 that pecan cultivation became a serious business. Risien focused on budding, grafting, and mature pollination in order to produce varietals for flavor, color, texture, and easy shelling. The result is his famous thin, easy to shell, paper shell pecans.
Today, the pecan business in San Saba County continues to thrive, with dozens of growers and retail outlets marketing everything from shelled pecans to famous pecan pie, honey (pecan) butter, and pecan candies.

The descendants of Risien continue his tradition as the Millican Pecan Company. Winston Millican and his wife Kristen, both graduates of Texas A&M University, cite an expanding product line of pecans and online ordering as part of their "vision for the future that is rooted in the heritage of the past." Be sure to try their Texas Pecan Pie; recently featured on the Food Network and written about by Bon Appétit magazine as well as Southern Living magazine. Coupled with a scoop of vanilla ice cream, it's some of the best I have tasted in recent memory.

Besides being tasty, pecans are healthy too. According to documented research referenced on the Texas Pecan Growers Association site (www.tpga.org/index.html) pecans can double the cholesterol-lowering effect of a traditional heart-healthy diet.

Pecans raise Vitamin E levels and may support prostate and intestinal health. Besides increasing fiber and nutrient intake, pecans are also a concentrated source of natural plant sterols. Finally, adding pecans to your diet can lower "bad" cholesterol.
Texas Soul and Savvy
The Texas Hill and River Country is a rural and hilly heartland in which you will find dedicated individuals with a deep connection to the land. Their welcoming hospitality and heart-warming smiles bring instant sunshine in this land of wildflowers, wildlife, and water.
---
Traditional Pecan Bread (Courtesy of Millican Pecan Company)
2 cups flour
2 tsp baking powder
½ cup sugar
1 tsp salt
1 cup milk
1 egg, beaten
½ cup chopped Millican Pecans

Sift dry ingredients together. Mix milk and egg and add to dry mixture. Mix thoroughly, but do not beat. Add pecans. Bake in greased loaf pan at 350 degrees Fahrenheit about one hour or until a straw comes out clean. Best kept for a day or two then sliced as thin as possible and served with butter or cream cheese. This bread can be made three or four days in advance. Also freezes well. Makes one loaf.
---
IF YOU GO
Consult the Central Texas Hills & Rivers Region website at:
www.texashillsandrivers.org.
Attractions
Paint Rock Excursions (Tours by Appointment)
P.O. Box 186
Paint Rock, TX 76866
Phone: 325/732-4376
www.paintrockpictographs.com

Peacemaker River Expeditions
126 Flatrock Lane
Junction, TX 76849
Tel: 325-446-2363

Millican Pecan Company
1101 West Wallace
San Saba, TX 76877
Tel:: 866-484-6358
www.pecancompany.com

Rod Gardner Outdoor Photography
rodgardner@yahoo.com
Tel: 325-396-4590 or 325-456-1188
www.rgardnerphoto.com
Where to eat
Burrito Express
101 East 15th Street
Brady, TX 76825
Tel:: 325-597-4676

City Limits Café
1031 US Highway 87 West
Eden, TX 76837
Tel: 325-869-5663

Heart of Texas Depot Restaurant
505 North Bridge Street
Brady, TX 76825
Tel: 325-597-2283

Issack's Restaurant
1606 Main Street
Junction, TX 76849
Tel: 325-446-2629

Ranelle's Corner Deli & Bistro
101 East Main Street
Brady, TX 76825
Tel: 325-597-1700

Sunshine Café and Bakery
1907 North Main Street
Junction, TX 76849
Tel: 325-446-2497
Where to stay
Best Western Inn Brady
2200 Bridge Street
Brady, TX 76825
Tel: 325-597-1894
Reservations: 800/528-1234

CAVU Canyon Ranch
10400 East Rural Route 2169
Junction, TX 76849
Tel: 325-446-9133