The road to the Smokies will take you to the heartland of America — and beyond.
Hailing from the Suining Sichuan Province of China, "The Great China Acrobats" show has more than 40 performers and 500 stupendous costumes. In a parallel tradition of Cirque de Soleil, the agile performers are utterly captivating in their feats of power, grace and contortion. This is a "must see" show.
The middle and right photos above are courtesy of Great China Acrobats.
From the world-renowned Moscow Circus to the stilt walkers of Germany (Zebra Stelzentheater), Dollywood goes global in its annual Festival of Nations. This is a wonderful opportunity to try various ethnic foods originating from Russia, Germany, Hungary, Mexico and various other nations. Be sure and try a southern favorite, pork rinds – which, believe it or not, is recommended on the Atkins diet, or so I've been told.
Above photo courtesy of Dollywood
At Rainforest Adventures, come discover 500 live animals representing 150 species. The rainforest critter collection includes birds, lizards, snakes, turtles, bugs and animals, the majority which have been born or hatched in captivity. An authentic environment transports guests to tropical areas around the world, while interactive animal shows educate and entertain.
Airworthy Warbirds are the foundation of the aircraft collection At the Tennessee Museum of Aviation, almost all aircraft on display are "flyable." Makes sense since the runway is just outside the hangar door, allowing for impromptu fly-bys. The museum houses two airworthy P-47 Thunderbolts, a real treat since only 10 of these rare airplanes are currently flying in the United States.
Above photo courtesy of Tennessee Museum of Aviation
With 8 action-packed tracks and NASCAR Silicon Motor Speedway Simulators, this place gets the adrenalin pumping. Interactive games, speed bumper boats along with family and kiddie rides makes this a place with definite family appeal.
Discover Elvis at the Muscle Car Museum as you take a trip back in time to the nostalgia of the 50s, 60s, and 70s – when muscle cars reigned supreme.
Find out what's forbidden at Forbidden Caverns, a legendary place of Indian myths and Bootleggers of the 1920s.
Shop for artisan pottery at the Old Mill Square and check out the innovative works of 26 year-old budding artisan Tommy Bullen.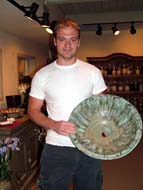 Save time for a scenic horseback ride with Five Oaks Riding Stables, in the "peaceful foothills" of the Smoky Mountains, or as they say, "Take A Ride on the Mild Side!"
Everything is "apples" at the Apple Barn. From delicious apple fritters at the Applewood Farmhouse to apple wine, candy, pies, and jams and jellies, you are sure to find a taste to tempt your palette. How about a handmade jawbreaker or apple wood smoked ham?
At the Robert A. Tino Gallery, contemplate beautiful watercolors and giclées that capture the landscape of the Southern Appalachian Mountains. Better yet, purchase a piece of Smoky Mountain heritage from Tino's award-winning and widely acclaimed inventory of paintings, cards and gifts.
Choose a room with a view that includes southern hospitality and charm evocative of "Gone with the Wind" at award-winning Clarion Inn Willow River.
Relax and unwind at the end of a long day with a massage that comes to you in the privacy of your cabin or hotel room. Swedish, deep tissue, hot stone massage and spa services are available at very affordable prices from Beneficial to Life Therapeutic Massage.
And then there's Dolly and friends, the essence of the Smokies!
Above photo courtesy of Dollywood
---
World Class Entertainment
Great China Acrobats
1304 Parkway
Sevierville, TN 37862
Phone: 1-866-43-CHINA (866-432-4462)
www.mandarinco.com
Dixie Stampede Dinner & Show
Phone: 1-800-356-1676 or (865) 453-4400
www.dixiestampede.com
Worldly Things to See and Do
Rainforest Adventures
109 NASCAR Drive
Sevierville, TN 37862
Phone: (865) 428-4091
www.rfadventures.com
Dollywood – The Smoky Mountain Family Adventure
1020 Dollywood Lane
Pigeon Forge, TN 37863
www.Dollywood.com
Five Oaks Riding Stables
1628 Parkway
Sevierville, TN 37862
Phone: (865) 453-8644
Tennessee Museum of Aviation
135 Air Museum Way
Sevierville, TN 37862
Toll-Free: (866) AV MUSEUM (286-8738)
www.tnairmuseum.com
Robert A. Tino Gallery, Inc.
Sunset View Farm
812 Old Douglas Dam Road
Sevierville, TN 37876
Phone: (865) 453-6315
www.robertatinogallery.com
NASCAR Speedpark
1545 Parkway (Red Light 13.1)
Sevierville, TN 37862
Phone: (865) 908-5500
www.NASCARSpeedPark.com
Floyd Garrett's Muscle Car Museum
320 Winfield Dunn Parkway (Hwy 66)
Sevierville, TN 37876
Phone: (865) 908-0882
www.musclecarmuseum.com
Forbidden Caverns
455 Blowing Cave Road
Sevierville, TN 37876
Phone: (865) 453-5972
www.forbiddencavern.com
Shopping and More
The Old Mill Pottery -at the Historic Old Mill Square
175 Old Mill Avenue
Pigeon Forge, TN 37863
Phone: (865) 428-7269
www.old-mill.com
Smoky Mountain Knife Works – The World's Largest Knife Showplace
2320 Winfield Dunn Parkway (Hwy 66)
Sevierville, TN 37876
Phone: 1-800- 251-9306
www.SmokyMountainKnifeWorks.com
Tanger Five Oaks Outlet Center
1645 Parkway
Sevierville, TN
Phone: (865) 453-1053
Great Places to Eat
Cobblers
160 Court Avenue
Sevierville, TN 37862
Phone: (865) 908-8700
www.cobblerscoffeeshop.com
Taulbee's Restaurant
109 Bruce Street
Sevierville, TN 37862
Phone: (865) 453-2782
Up the Creek – Fish Camp & Grill
207 Collier Drive
Sevierville, TN 37862
Phone: (865) 908-9424
The Applewood Farmhouse Restaurant
230 Apple Valley Road
Sevierville, TN 37862
Phone: (865) 453-9319
Rooms With a View
Clarion Inn Willow River
1990 Winfield Dunn Parkway (Hwy. 66)
Sevierville, TN 37876
Phone: 1-800-610-0565
www.innofthesouth.com
And at the End of the Day
Beneficial to Life
Therapeutic Massage that Comes to You
Phone: 865-924-1111
www.BeneficialtoLife.com
Be a friend to the Smokies
Visit the website of the Friends of Great Smoky Mountains National Parks