---
Cultural influences
Colonized and ruled at one point by China's Han Dynasty, the Ming Dynasty (briefly), and then by France, Vietnamese culture bears the legacy of several foreign occupations — including, some would say, American. And yet, it has retained a strong indigenous culture that is uniquely Vietnamese.

I started my exploration in Ho Chi Minh City (once known in more lyrical terms as Saigon, itself a name of Chinese etymology). I stayed at the posh Park Hyatt which is located in District 1 near the Opera House.

The Hyatt is a French colonial style hotel in a city enclave with a decidedly residential feel. The lobby boasts original art work; the 259 rooms are outfitted with teak floors, four-poster beds, dark plantation shutters and marble baths. During my December visit, uniformed school children sang Christmas carols in the lobby, poised on the curved wrought iron staircase; including a rousing version of Jingle Bells. I enjoyed retiring every night to the living room-like Park Lounge to listen to live jazz and sip a "Saigon Crush," a sour cocktail of passion fruit and vodka.

At the Xuan Spa in the hotel, the massage therapist climbed up on the table to better knead my back muscles. During a chat about contemporary Vietnam, I asked her if she was religious. She tapped her chest and said, "In here is where church is." That night, Christmas Eve, throngs filled the street on their way to nearby Notre Dame Cathedral.
The Tourist's Vietnam
At Square One, the hotel's visually and gastronomically stunning East-West restaurant, almost immediately after ordering, my table quickly filled with sumptuous dishes: succulent rib eye and luscious Waygu beef, grilled oysters, pomelo and shrimp salad, spring rolls wrapped in mustard leaves, cherry crème brûlé — a holiday feast. Christmas Day began with a steaming bowl of pho, the national bracing soup, from the copious breakfast buffet.

After breakfast I walked over to Ben Thanh Market, where Brangelina made a quite stir in November 2006, arriving on a motorbike and buying souvenirs from the vendors. Here I discovered another sign of a go-go economy: Communist-era housing blocks were being razed and skyscrapers were going up in their place. I then walked to the Reunification Palace, whose 1966 interiors are retro in the extreme. The war command room with its huge maps and communications equipment is the most interesting — and replete with dramatic irony.

For a street level view of the city, I discovered that you can't beat a cyclo, as the driver peddles furiously through a sea of motorbikes. I saw entire families sharing a single seat, baby often wedged between Mom and Dad. Men and women alike were wearing scarves over their faces to protect them from the pollution and the intense sun. Many of the women were also wearing opera-length gloves that extended nearly to their shoulders.

As chance would have it, friends from Atlanta were staying in the Park Hyatt as well. Although we were in Southeast Asia, we had dinner at a Mediterranean restaurant just down the street where the Vietnamese waiter wished us Merry Christmas and set baklava before us.
Remnants of war
The following morning I joined a tour of the Cu Chi Tunnels, the extensive and ingenious underground network of "enemy" or "resistance" (depending on your historical point of view) tunnels which had been dug into the earth just an hour and a half from Ho Chi Minh City. Used by the Vietcong in the 1960s as a means of penetrating the territory of the "occupying" forces, they were a primitive but strategic and effective method of waging war against American troops and and their South Vietnamese allies.

The visit started with a lecture and then we headed out into the jungle to see the tunnels. Many visitors to the site crawl through a portion of the tunnel; others pretend to be soldiers at the firing range. I examined with considerable curiosity the souvenir bullet lighters and pens, and rubber sandals; and then I watched a demonstration of rice paper making. Before arriving in Vietnam, I had wondered if I would find a terrible sadness in the soil here, but instead I smelled the scent of capitalism.
Vietnam re-emerging
The next day, I left for the Mekong Delta, a 90-minute drive from Ho Chi Minh City. If you want to really explore this region, you need a couple of days, otherwise your touring is limited to ambling down a dirt lane while perusing card tables laden with snake wine and crocodile wallets and belts, watching locals make coconut candy, and listening to roosters crow.

The highlight of my brief visit was the short boat ride through the canals and a snack of fresh cut jackfruit, papaya, and pineapple dipped in chili and salt. I wished I had pre-booked a visit to the Cao Dai Temple with its Candyland colors. For lunch at the Mekong Rest Stop, I sampled the odd-looking and crispy fried elephant fish and massive fried sticky rice ball .

Nha Trang, Vietnam's number one beach resort area, was the next stop on my itinerary. I split my time between Ana Mandara and its sister resort, the exclusive Evason Hideaway.

Ana Mandara was packed with British, Spanish, German, and American travelers. When it was built, the hotel was an oasis. But the city of Nha Trang has become a victim of its own success; the constant bleating of motorbikes grated on my nerves. The weather was windy and overcast, so instead of lying on the beach I took a cooking class where I learned to make hand rolls and spring rolls. Our group of 10 had a blast, laughing and noshing our way through the lesson, so much so that we decided to take a half-day tour of the city's sights together the next day.

Later, I indulged myself at the hotel's gorgeous outdoor spa where Hoa, whose tiny size belies her strength, manipulated my spine with knowing fingers. She then practiced cupping on me, a technique that uses a heated glass to suction out toxins. The sun was setting, the waves thundering, and I felt pure bliss.

At home, I never eat much for breakfast, but the next morning I found the hotel's buffet too tempting to miss. In addition to made-to-order pho (the world's best soup, I decided) and omelets, there was a beautiful table of fresh fruit; black spotted dragon fruit with vanilla, watermelon with ginger, and papaya with basil were heavenly.

Our first stop this day was Po Ngar Towers, built by the Cham people between the eight and 13th centuries high on a hill. In quick succession, we visited the White Buddha, the local market, and a gallery exhibiting the poetic photography of Long Thanh. For dinner, we ventured out to Lac Canh where we discovered we were the only non-Asians in a simple, tasty, fun restaurant. However we very much enjoyed grilling our own fish, calamari, and chicken on cast-iron braziers set in front of us — and drinking three-dollar bottles of wine. It was simple, tasty, and great fun.

The Evason Hideaway, where I stayed next, exemplifies "barefoot luxe." Located on a rocky peninsula and accessible only after a 25-minute boat ride, it is and surrounded by dense vegetation, and has 54 secluded villas, each with its own private pool. "Island time" is a hour behind the mainland and thankfully, there are no horns or sounds of any kind. Every guest is assigned a butler, who shows you to your room and takes care of tasks such as booking spa treatment and excursions. I would describe my two-floor villa as "tree house chic." Rope pulleys served as door handles, there was an outdoor shower, and a wooden bathtub. At dinner, I met a couple from Arkansas who were spending 45 days in Vietnam. "I wish we were spending 45 days just here," the wife said wistfully.

Chef David Thai arranged to have dinner prepared in my villa. He is slight of stature but enormous of spirit, and refers to himself as a "fusion," having trained and lived in Paris for many years. He only recently returned to Vietnam, excited to be home as the world re-discovers his native land. As we sat upstairs and sipped wine, his staff cooked on the patio below and brought us a delicious, multi-course meal. Every plate was a delicate balance of flavors: beef with green papaya, prawns with green mango, banana flowers with clams, grilled shrimp, lime marinated fish, beef filet.
A geographical shift
Mountainous Dalat was a change in every way from Nha Trang. The city of 200,000 is the country's most popular honeymoon destination. It was a popular resort for French commanders who grew weary of the sweltering tropical weather. Its hilly pine forests reminded me of the Appalachians or an Alpine resort. The day was sunny and cool, cool enough that the locals were wearing hats, coats and gloves. It was also cool enough to build a fire in my room at Evason Ana Mandara. A former 1920s colonial estate with just 20 villas atop a hill, the resort had been open for just a week when I arrived. The smell of roasting coffee from a nearby plantation wafted across the property. (Vietnam is the second largest producer of coffee in the world). The room was simple and spare, but elegant and deliciously quiet.

Thanh served as my guide on a day-long tour of the city. We took a cable car to Truc Lam Monastery with its views of strawberry, carrot, cabbage, and broccoli farms passing below us. The monks practice a unique form of Zen Buddhism here and the setting — the mountains, the cobalt blue Tuyen Lak Lake and the gonging bells — enhanced the intimate peaceful feeling of the place.

I experienced a more amorous feeling at the Valley of Love and the Lake of Sighs where kitschy local cowboys posed with newlyweds. The Dalat Railway Station, which was built in 1932, once had wood-burning steamer. Now the train takes visitors on excursions to Linh Phuoc Pagoda, a fantasy land glass and ceramic mosaic temple with a huge Golden Buddha. I met a young couple from Nashville traveling with their three young children. They were currently living in Saigon, but spending every free weekend exploring Dalat. "It reminds us of home," said the father and husband.

The so-called Crazy House is a fantastic structure that seems to owe its inspiration to Gaudi, though the architect's father was a former President of Vietnam. The base of this guesthouse and gallery is a tree trunk; motifs include a huge cobweb and a giraffe. It must been seen to be believed.

The Lat and Chicken Villages of Langbiang Mountain are home to a minority people. I stood for a long time admiring the pastoral scenery and the twin peaks. That night I ate at the modest Nbat Ly, where the only other non-Asian turned out to be the resort's new general manager, an exuberant Aussie. He invited me to join him for a meal of shrimp with tamarind, mixed vegetables, and green tea. "It's my favorite place in town," he says.
A communications gap
When I returned to the hotel to check my email, a young Vietnamese staffer explained that the "Internet was broken." Thinking there was a miscommunication because of the language gap, I waited until the following morning to try again. No such luck. It was only days later, in Hanoi, that I learned that a cable in Taiwan had ruptured as a result of a typhoon, and had knocked out Internet access across Asia.
Classic and contemporary Vietnam
The ancient town of Hoi An was, in a bygone era, a vital seaport bustling with Chinese, Japanese, and European traders, sailors and merchants.

Today it is a UNESCO World Heritage city with more than 844 historical structures. The sky was angry and foreboding on the day I toured it. I eventually hailed a cyclo driver to rescue me from the cold and damp. He produced a tarp, I popped my umbrella, and off we went splashing through the narrow streets.

Along the way, we stopped to visit various unusual and historically significant sites. The Tran Family Home & Chapel, built by a civil service mandarin in 1802, is stylishly decorated with Chinese antiques and features an ancestral altar. The Quan Kong Temple was built in the early 1600s to honor a Chin Dynasty general; hand lettered New Year's wishes hung from slowly burning red incense coils. The grand Fukian Assembly Hall has an animal theme: fish represent scholarly achievement, unicorns wisdom, dragons power, turtles longevity; and the phoenix symbolizes nobility. The Japanese Covered Bridge is the most popular spot for picture posing.

Avoiding pesky hawkers here wasn't easy; the traveler is not likely to escape town without having an inexpensive shirt or suit quickly made. My favorite memories, however, are of being dragged into a wedding with friendly and exuberant celebrants (the bride wore yellow); signing the guest book while a clutch of children giggled; and being shown around by a beaming grandpa. I also have a vivid memory of eating two local specialties at the unassuming Wan Lu restaurant, white rose and won ton dumplings.

My accommodations for the next few days — including New Year's Eve — was the stunning Nam Hai. Having opened just one month before I visited, the 100-villa resort has sweeping views of China Beach, as yet undeveloped. (I suspect in five years that it will have a very changed vista.) My room was so enveloping I didn't want to leave it. Expanses of dark wood, cool stone floors, and a living and sleeping platform featuring a tub and TV were the ultimate in simplicity and comfort. At turndown, gauzy white drapes were pulled together to enclose the bed, and then candles were lit.

In the morning I discovered that three huge, tiered pools led down to the sea creating the focal point of the property. Just off the pools were the library, restaurant, bar, and gift shop. The spa was a knockout, with private mini-villas floating in a large lotus pond. I began my treatment by choosing an oil from a generous selection. This was followed by a quick steam, a foot bath, and finally the relaxing massage.

I joined other guests in the New Year's Eve celebration and watched as the Nam Hai staff released firecracker lanterns into the sky. We all gathered to toast the New Year and then looked heavenward at a trail of fading orange that seemed to reach to the moon.

The next day, I hired a private car and driver to take me over Hai Van (Cloudy Mountain) Pass to Hue. The imperial city of Hue was the capital of Vietnam from 1802 to 1945, and is another UNESCO World Heritage site. There's a certain derelict grandeur to this leafy, pedestrian-friendly city which is located on the banks of the Perfume River. Foot and bike traffic is constant on the bridge that spans the two sides of town. I had a memorable view of it from my room at the pink colonial Saigon Morin Hotel. The subtle hospitality of the hotel could be seen in the elevator carpet which changes from Good Morning to Good Afternoon to Good Evening.

In the evening I joined friends for a fine dinner at La Résidence, a swanky new Art Deco hotel that was once the former governor's residence. Returning to my hotel I found a printed "nighttime story" left on my pillow at turndown complete with charming grammatical and spelling errors.

The following day I opted for a full day bus tour, at a cost equivalent to US$7. I spent the morning visiting imperial tombs: the Khai Dinh tomb, a gaudy mix of Gothic, Baroque and classic Chinese architecture with intricate glass and ceramic mosaics; the serene Tu Duc mausoleum on a lake ringed by frangipani trees; a summer palace featuring Ming Manh's tomb; and the lovely Thien Mu Pagoda, constructed in 1601 with 12 large wooden temple guards.

In the afternoon, I visited the imposing Citadel, marked by its tall flag tower. During the Tet Offensive in 1968, heavy shelling destroyed a good deal of the structure, but it is still the most visited site in Hue. Much like Beijing's Forbidden City, the walled structure reveals its temples and moats one by one. To enhance the historical romance of the experience, travelers can even dress up in imperial costumes and tour the site by elephant. To end the day, I went for a "long-tail" boat ride on the Perfume River. For dinner, I joined locals perched on plastic red stools and crouched over plastic blue tables. In unison we slurped our beef pho.
Timeless Vietnam
In Hanoi, the wasp-waisted girls seemed to float down the tree-lined boulevards in their traditional ao dai past the historic architecture of the colonial capital. The graceful Métropole Hotel with its white façade, green shutters, wrought iron flourishes and lush courtyard captures the Indochine feel of pre-War Hanoi. Since 1901, heads of state, celebrities, artists, authors, and APEC Summit leaders have stayed in this landmark hotel. (Request a room in the old wing for period atmosphere.)

Having strolled over to Hoan Kiem Lake, the city's nerve center, I crossed a red wooden bridge to Ngoc Son Temple.

Here the numerous streets are the heart and soul of the city as they are in all of Vietnam. I wound my way through the Old Quarter and its 2000-year history. Its 36 streets are named for craftspeople, such as silversmiths, locksmiths, silk weavers, and marble carvers. Today it is an maddening maze of tourists, cycle drivers, cars and motorbikes all competing for a patch of asphalt. Women both young and old gracefully wove their way through the masses, swaying elegantly while balancing a bamboo pole on their shoulders at each end of which were baskets laden with fruits and vegetables. Many sidewalks have been co-opted by entrepreneurs who watch parked motorbikes for a few dong. Vietnam may be one of just four remaining communist countries, but capitalist principles are clearly the modus operandi.

Back at the hotel late in the afternoon, I arrived just in time for the chocolate buffet, a lavish spread of 39 types of desserts including chocolate spring rolls, three kinds of ganache with basil, olive oil and rosemary (delicious!) — and a chocolate fountain! Accompanied by charming chef Didier Corlou, who has made his home in Hanoi for decades, I sipped the Graham Greene cocktail made with gin, vermouth, and Cassis.

Later I wandered down a nearby street and into a bookstore where I struck up a conversation with a U.S. professor who has been teaching in Hanoi for six years. "I love it," he says, flipping through an English language history text. "Tradition and identity still exist here."

On another street — let's call it the "pirated book street"— vendors were selling blurry photocopies of bestsellers by authors such as Dan Brown, Bill Bryson, Paulo Coehlo, and the ever-popular John Grisham at $4 a piece or three for $10. They were doing a swift business.

I spent a half-day at The Métropole's cooking class, which began with a visit to a local market, where we were schooled in the local produce, fish, and spices of the region. Our group of 10 were captivated by the displays of produce, and snapped pictures endlessly while greeting vendors who tried in vain to press bananas and mangos on us.

Having made our way back to the hotel for an interactive cooking class, we learned how the dishes differ in the North and the South. We were then given gifts of a metal basket for frying fish, a vegetable peeler, and the traditional conical bamboo hat. Clutching our culinary souvenirs, we repaired to Spices Garden for a leisurely lunch and a sumptuous array of constantly-changing "Hanoi street food."

Back at the hotel, I discovered that the concierge had arranged for me to spend the afternoon touring in the hotel's spiffy navy 1953 Citroen. We drew curious stares as we traveled through the streets. We drove past Embassy Row (government buildings are yellow with green shutters) on the way to the National Fine Arts Museum. The building was hushed and empty. Entire rooms of the gracious restored colonial building are devoted to lacquer, woodblocks and folk art, although the most intriguing piece may be the many-armed 11th-century Goddess of Mercy.

At the Temple of Literature,Vietnam's first university, 82 stone tablets mounted on turtle backs display the names of scholars. The imposing granite and concrete Ho Chi Minh Mausoleum (modeled on Lenin's tomb) was closed during my visit, but I did get to see the changing of the guard in their pristine white uniforms.

Of course, no visit to Hanoi would be complete without seeing the infamous Hoa Lo Prison also known as the "Hanoi Hilton," where American soldiers including Senator John McCain were held in terrible conditions. Two-thirds of the prison has been demolished to make way for an apartment and office complex, but the guillotines and other torture devices still on view gave me a cold shudder.

My final excursion was to Halong Bay, a three-hour drive from Hanoi. Along the way, we passed farmers in rice paddies and saw water buffalos pulling plows.

Celebrated by poets for centuries, Halong means "Bay of the Descending Dragon," and consists of more than 1800 limestone outcroppings in the Gulf of Tonkin. I boarded a wooden junk for a three-hour cruise through the spectacular scenery (also UNESCO-listed). The islands look like ziggurats as they come into sight; the misty fog only adds to the harmonious atmosphere. The captain throttled back the motor so we could enjoy the scenery and a delicious multi-course lunch of crabs, steamed shrimp, squid salad, and butter fish to be served.

Vietnam in the 21st century is many things, and it will surprise you at every turn. Modern Vietnam is many things, but suspended in time on this winter afternoon, this was the Vietnam of countless reveries.

---
As someone who travels frequently on my own, I am often asked if I feel safe. Many people seem to believe that the farther away from home, you roam the less safe you are from crime. That's not my take.

Check crime statistics for most any U.S. city and I will wager they are far worse than many of "far-flung"destinations I have visited. I have traveled alone in South America, Europe, Africa, and Asia without incident. Asia, in particular, I find very easy for a solo woman traveler. Although the continent is the world's most populous, it is also statistically very safe.

As an obvious "foreigner" and a woman alone, you will indeed stand out, but in my experience it has only been as a figure of curiosity. Otherwise, I have found that whether its is Singapore, China, India, Thailand, Indonesia, Burma, Cambodia, Vietnam, Hong Kong, or Nepal, as a female traveling alone, I have not felt I had to be as "on guard" as I am in North America.

My advice? Use your common sense and practice the same precautions you would in your own hemisphere. And then trust that you are safe in the world. Because odds are, you are, especially in Asia.
Vietnam on the Verge
by Suzanne Wright


A sure sign that a country is ready to welcome the world is when it has attracted top hoteliers to build major properties in it. In both the North and the South, Vietnam has opened a string of five-star hotels to host visitors in some of its most popular cities.
According to a January 2007 Gallup International poll, the Vietnamese are the most optimistic people in the world. Why? A rapidly developing infrastructure, a surge of foreign investment, political stability, a populace rapidly becoming fluent in English, diverse cultural attractions, a favorable exchange rate, unspoiled beaches, and knockout cuisine make for a winning destination. As a result, poverty is down and income is up.
---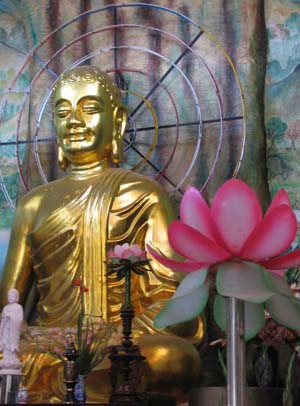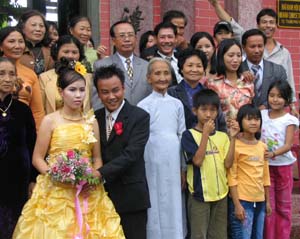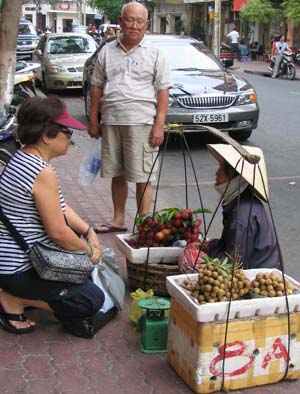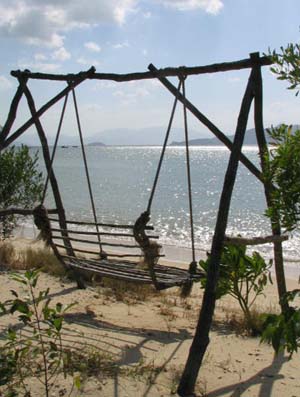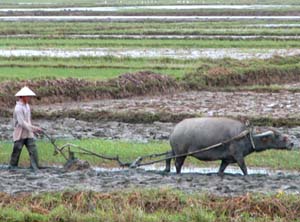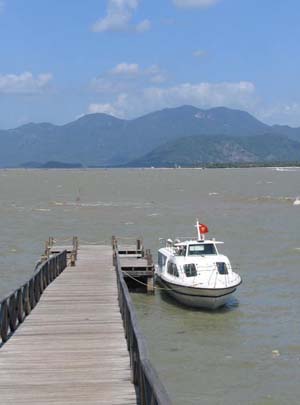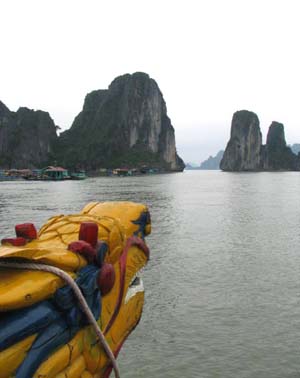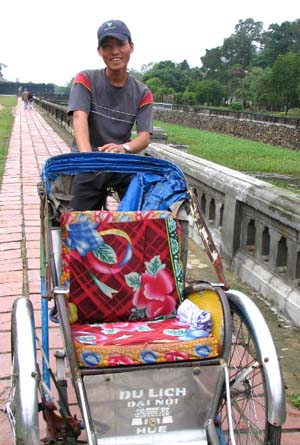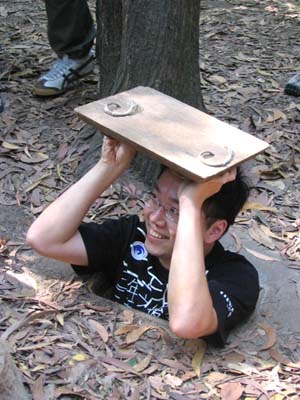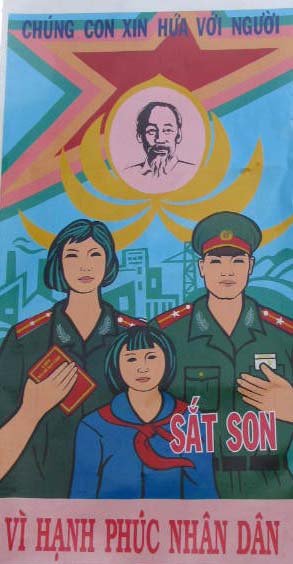 ---
Photographs by Suzanne Wright