My wife and I were on the final leg of moving from land-locked southern Ontario to our new home in the Gulf Islands. As the ferry chugged into Georgia Strait we were instantly enthralled by the watery world. The sun sparkled from the waves, fishing boats trolled the waters, a powerful tug pulled a barge on a long line and sailboats floated like butterflies.
Soon we were in the midst of a maze of rocky islands that stretched in all
directions, for the Gulf Islands are an archipelago of more than 220 rocky
masses ranging from small deathly-dangerous-when-foggy reefs to large land
masses that lie just east of Vancouver Island's southern tip. The five
main islands — Salt Spring, Pender, Mayne, Galiano and Saturna — receive
regular BC Ferry service; the rest can only be reached by private boat.
Our first stop was Galiano Island where a few cars clunked off the ramp and
a few thumped on. Gulls soared behind the ferry while black cormorants
dried their outstretched wings on the mooring posts like preachers blessing
their flock. Then we entered Active Pass and watched a superferry make
sharp turns in the narrow, twisting channel. Small fishermens' boats bobbed
in the pass seeking the herring and salmon that are attracted by the
turbulent tidal currents.
At Pender Island, we drove off the ferry and to our new home, a cabin in a
glade in the middle of a forest.
Day after sunny day followed, for the Gulf Islands lie in the rain shadow
of the Olympic mountains and have a warm Mediterranean climate. We soon
strung up a long line and once a week our laundry billow in the breeze like
miniature sails.
We discovered the islands have two very different personalities: the sea
and the forest. From our cabin it is only a few steps into the forest
where we feel tiny amongst the enormous Douglas firs, western cedars and
lodge-pole pines all standing ram-rod straight. Their military precision
is interrupted here and there by slouching, twisted arbutus trees with
their bare, rust-coloured trunks, like hippies lost among a cadre of
soldiers. Surrounded by delicate ferns, sombre light, towering trees and
bright green moss clinging to logs and rocks it feels like a primordial
age; we walk close together expecting a raptor or other Mesozoic beast to
suddenly burst through the trees.
One day we went sea kayaking. The tide was out revealing a glistening mudflat with an oyster catcher and a long-legged blue heron patrolling for dinner. Rising and falling with the waves we witnessed an amazing abundance of marine life. The tour leader found a large red crab hiding inside a soft moon-snail shell. Purple starfish were attached like glue to rocks. An eagle sat regally high in a fir tree next to its massive nest. Thirty seals basking on a small islet watched us paddle past.
Our guide described the graceful black and white orcas, or killer whales, that inhabit this strait. Three pods of about 90 orcas live here and the ultimate thrill, he explained, is to watch the graceful movements of these powerful mammals from a nearby kayak.
Although boatless, we wanted to explore the nautical character of the Islands for they offer some of the best boating in the world. We solved the problem by visiting Poets Cove on south Pender Island. Set in a secluded cove this is the finest marina/resort in the Islands attracting boaters from California to Alaska. We spent hours on the dock watching the coming and going of sail boats with tall masts, gleaming yachts and roaring float planes. We walked the beaches toward the lighthouse peering into tidal pools and admiring the weathered driftwood logs that mark the high-tide line. At the bar we listened to yarns about fish that had been caught (or not), cruising the inner passage and the orcas, dolphins and sea lions that had been sighted.
Our next exploration was to neighbouring Salt Spring Island, the largest (180 square kilometres) and most populated (10,000 inhabitants) of the Islands and a mecca for artists, authors and craftspeople. The inbound ferry passed large, elegant homes each with a boat dock and sleek yacht.
Ganges, where we stayed at a lovely B&B, is the main town and is full of artisan shops, cafes, and restaurants serving fresh seafood. That afternoon we hiked a sea-side trail and watched ferries float regally past; then we tippled at one of the picturesque cottage wineries. But the highlight was the Saturday market, which was abuzz with pottery, paintings, carvings, sculptures, stained glass and other products of the human mind and hand.
Pender, our island, is more isolated than Salt Spring with narrow winding roads and little night life. But it is achingly beautiful with numerous beach accesses and forest trails that often lead to "secret" glades or viewpoints where you can relax in privacy. One day I found a small cove where archeologists had unearthed an ancient Native midden (a buried refuse heap of an often centuries-old people). In this quiet spot I studied the perfectly preserved layers of tiny white shells as they curved up and down and pondered how the Coastal Salish Natives lived here for 4,000 years.
At day's end, my wife and I often go to a favourite viewpoint and as the islands turn a misty blue-grey, we raise a glass to our new home.
---
Hans recommends:
Gulf Islands information
BC Ferry schedules
Poets Cove, Pender Island
Kayaking and eco-tourism, Salt Spring Island

---
Hans Tammemagi
4729 Captain's Crescent, Pender Island, BC V0N 2M2
250 629-2029; tammemagi@cablelan.net
The ferry leaving the Pender Island terminal (our island home)
Deep in a forest glade in the Gulf Islands
Kayaks lined up and waiting on the beach
Starfish clinging to a rock at low tide
A quiet cove with driftwood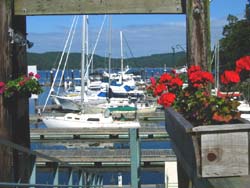 Poets Cove marina
The Gulf Islands perspective
© 2005 All photographs by Hans Tammemagi