Our first stop was Cape Breton Island's Sydney Mines and the Gowrie House Country Inn, a Georgian style heritage house built in 1830. Our "room" was actually a spacious suite beautifully decorated in fine antiques and artwork (like a beautiful Acadian hooked rug on the wall), and with a cozy fireplace in the living-sitting area.
Ken Tutty, the Innkeeper, joined us for a four-course dinner and kept us entertained all evening with his great storytelling about the inn's history, including a "nightmare" ex-chef. (Can you imagine a cantankerous chef telling you to go and make your own lunch?) And he also entertained us about resident friendly ghosts. (We'll never know if there really were ghosts, but Ken sure can spin a good story!)
Gowrie House, with its gorgeous English gardens, is a perfect point of departure for day-tripping as all of Cape Breton Island's major attractions are only a short distance away.
Next we headed for Port Hood — a pretty little fishing village on the Ceilidh Trail — and the Haus Treuburg Country Inn. There were lots of stops along the way, including the Alexander Graham Bell Museum in the quaint village of Baddeck.
Bell spent the last 37 years of his life here at his summer home, working on variations inventions and discoveries. At his summer residence and at the Bell Museum, you can see his hydrofoil boat HD4 which in 1919 set a world marine speed record that was held for 10 years. (Bell was 72 at the time.) You can also see the "photo phone," an early cell phone; and medical inventions like the vacuum jacket, an early iron lung.
Another great stop was at the Glenora Distillery, North America's only single malt whisky distillery. Nestled in the picturesque hills of Glenville, they produce whiskey by the traditional copper pot stills method using only three ingredients: barley, yeast, and water. Only whiskey produced in Scotland can be called "scotch," therefore, Glenora's is called Glen Breton Canadian Single Malt Whiskey.
Everything about Glenora was interesting and culturally significant: the traditional circle of barrels in the parking lot, the distillery itself, the Post-and-Beam Restaurant (delicious meals) and the free daily Ceilidhs by Celtic musicians. I even learned the art of drinking whiskey, a libation I had never tasted before ... and rather liked it!
By the time we arrived in Port Hood, we were ready for some quiet time, walking along the private beach at the Haus Treuburg Country Inn. A heritage house built in 1914, the Inn has a unique, somewhat whimsical, European flair to it, thanks to Innkeepers Georg and Elvi Kargoll. Where else can you find on the front lawn, a life-size hand-carved wood chess set for guests?
Their European-style restaurant (featured on "The Great Canadian Food Show") delivers a culinary adventure extraordinaire. Our dinner was a candlelit four-course event with soft classical music playing in the background — classic and elegant.
But after dinner came the wham, bang and clang! Innkeeper/Chef Georg switched his chef hat for a black top hat, put on a black formal blazer over his white chef's uniform, cranked a traditional German Barrel Organ and heartily sang old songs from around the world. He invited us to join in (which of course we did) because this was Nova Scotia, one of the most musical provinces in Canada. It was a magical evening.
The next morning (after a hearty German-style breakfast) we were on our way again, heading for mainland Nova Scotia. The only access between Cape Breton Island and the mainland is on the famous Canso Causeway, officially opened in 1955. The Causeway spans over 4500 feet crossing the waters of the Strait of Canso.
Once back on the mainland, we drove through a countryside rich in Canadian history. Particularly intriguing to me was Guysborough Harbour, into which the legendary Sir Henry Sinclair from Orkney, Scotland, is reputed to have sailed on June 1, 1398. (Yup! Ninety years before Columbus "discovered" America.) Stories abound that Sinclair buried remarkable treasures in Nova Scotia, perhaps the Holy Grail itself. It gave me goose bumps standing beside the Sinclair monument looking out to where his fleet of 14th-century tall sailing ships would have anchored. For the next few years, Sinclair and his expedition explored Nova Scotia and the North Atlantic shore of North America before heading back to Scotland.
We headed toward Charles Cove and our last country inn, the SeaWind Landing Country Inn between Halifax and the glorious Cabot Trail. Located on a dramatic ocean-front setting with an extensive private beach, interesting well-kept walking paths (illuminated at night), all rooms had ocean views. The gourmet dining was superb; my rack of lamb cooked to perfection. And the Innkeepers Jim and Lorraine Colvin, in quintessential Nova Scotian style were great hosts.
During our stay, we were told that the lobsters were "visiting" off-season. Seeing our bemused looks, Jim explained, "This time of year the lobster march in a line from the ocean to just in front of the Landing. They molt here, safe from seals." He added, that during the 12 weeks of lobster season, the lowest that the average lobster fisher makes, after expenses, is about $310,000. (That's Canadian dollars eh?)
The next morning, we were to embark on a "white linen breakfast sail" on the Inn's 31-foot sailing sloop Watermusic to a protected island point on the Barrier Islands. It was here that in 1607, explorer Samuel Champlain had visited the Basque fisherman Captain Savalet. The Basques were some of the first Europeans to see this part of "The New World" but records are a bit sketchy because no fisherman is going to tell the world about his favourite fishing hole. We know however that Savalet had already been coming to same fishing spot for 42 years. I was really looking forward to sipping morning coffee at the same spot where 400 years ago, Champlain had stayed for three days. But it was not to be; our sail was cancelled because of stormy weather conditions as a result of Hurricane MacIsaac. But as John Masefield expressed it so evocatively in his poem Sea-Fever I now know that:
I must go down to the seas again, to the lonely sea and the sky,
And all I ask is a tall ship and a star to steer her by;
And the wheel's kick and the wind's song and the white sail's shaking,
And a gray mist on the sea's face, and a gray dawn breaking.

I must go down to the seas again, for the call of the running tide
Is a wild call and a clear call that may not be denied;
And all I ask is a windy day with the white clouds flying,
And the flung spray and the blown spume, and the sea-gulls crying.

I must go down to the seas again, to the vagrant gypsy life,
To the gull's way and the whale's way, where the wind's like
a whetted knife;
And all I ask is a merry yarn from a laughing fellow-rover,
And quiet sleep and a sweet dream when the long trick's over.
After all, Nova Scotia is one of Canada's favourite Maritime provinces.
Driving back the next morning to Halifax, we came across the most bizarre "outdoor museum" I've ever seen. Surrounding a small house by the roadside, there were dozens of life-sized clothed mannequins — some quite macabre looking — placed around the yard and back fields. We stopped, but no one was home, except the cat. Or at least, nobody answered our "Hello?" Each figure was unique, made by someone with a flair for artistry. Why were these quirky strange figures scattered all over the yard? Who created them? A dark unsolved mystery. Or probably another example of the famous and quirky Nova Scotian sense of humour.
We had given ourselves only three days touring time; but we could have used another week. However, using Nova Scotia's country inns as our reference points, we created an itinerary that allowed us to experience the heart of this maritime culture.
---
Photographs by Elle Andra-Warner
Country Inns of Nova Scotia:
Whiskey, Tall ships, Holy Grail, Unsolved Mysteries, Marching Lobsters, and Singing Chefs
by Elle Andra-Warner

Last fall we did something a little bit different in planning our annual Nova Scotia trip. Our goal was to do a three-day visit to the province's Cape Breton Island and then come back along the northeast coast.
Following a friend's suggestion, we selected three country inns for our lodgings, using the traveller-friendly website of the Nova Scotia Association for Unique Country Inns. We then just connected the dots between inns on our route map.
---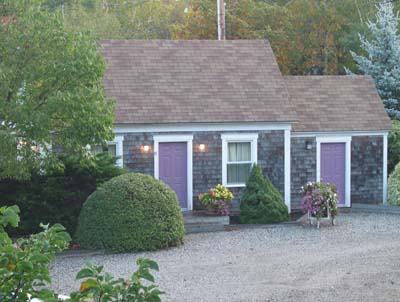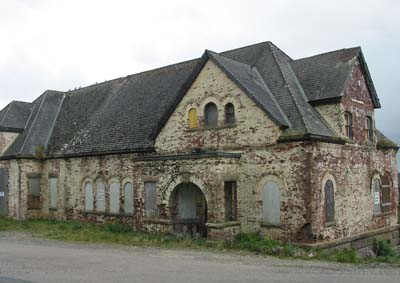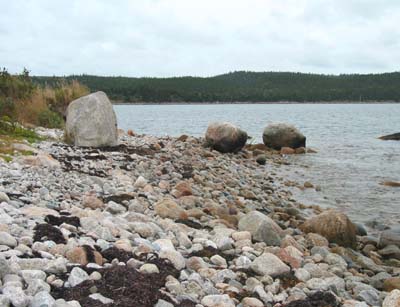 ---
Nova Scotia Tourism
Toll-free 1.800.565.000
Website: novascotia.com

Nova Scotia Association of Unique Country Inns Website
www.uniquecountryinns.com

Gowrie House Country Inn, Sydney Mines.
840 Shore Road,
Sydney Mines, Nova Scotia, B1V 1A6
Canada
Tel. 902.544.1050
Website: www.gowriehouse.com

Haus Treuburg Country Inn
P.O. Box 92
Port Hood, Nova Scotia BOE 2WO
Canada
Tel. 902.768.2116
Fax 902.787.3216
Website: www.haustreuburg.com

SeaWind Landing Country Inn
1 Wharf Road
Charlos Cove, Nova Scotia
Toll-free 1.800-563.4667
Website: www.seawindlanding.com

Glenora Distillery
Route 19/Ceilidh Trail
Glenville, Nova Scotia
Toll-free 1.800.839.0491
Website: www.glenoradistillery.com