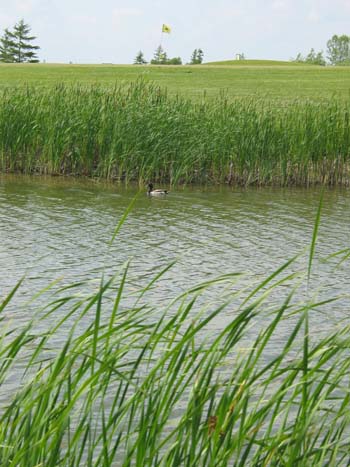 ---
The Plan
Our plan was to golf at three top-rated golf courses, starting in Winnipeg, Manitoba's capital city. We would then head east toward the Manitoba-Ontario border into a region of Canada that is a favourite fly-in wilderness destination for hunters and fishers; but also a great and waiting-to-be-discovered golfing experience.
The Courses
We picked three courses that could deliver a different golf experience:
The Shopping
Our first stop, however, was at Winnipeg's Willow Creek Women's Golf Store, Canada's only golf outfitting store for women. While the others (avid golfers) were well-prepared (they even brought their own golf clubs), I had to rent my clubs and get some "proper" golf clothing. Karen, the store's owner looked after me well: made-in-Winnipeg Jazz women's clubs; golf sandals; a short-sleeved light blue golf shirt; and some golf tips on how to hit with a hybrid club (which hadn't been invented when I last golfed).
Manitoba Prairies: Southside Golf Course
Our golfing adventure began at Southside Golf Course, a 18-hole course Par 63/65, ranging from 3300 to 4700 yards and designed to be played in three to three and a half hours. It's a prairie-like, flat landscape (you can see clear into the horizon), dotted with 11 marsh ponds, large rolling greens and strategically placed sand bunkers.

The opening hole was a par 4/5, 408 yards, with a starting point that offered a straightaway drive — perfect for my golf comeback. When my turn came to golf, my first three "power" swings widely missed the ball. A bit embarrassed, I re-focussed, chanting to myself, the advice someone had given me earlier, "Don't 'whack' the ball. Swing back. Keep left arm straight. Hit in sweet spot. Follow through with the shot.". I connected, hitting a beautiful shot 129 yards straight down the fairway.

By the time we had finished Southside, I had used my hybrid to hit some dang good long shots, including twice getting on the green in one shot. Not bad for returning to golf after 25 years, eh?
Historical Fort Garry Hotel: Comfort, Cookies, and Ghosts
We returned to Winnipeg to overnight at the Fort Garry Hotel, one of Canada's grand railway castle-like hotels built in the early 20th century.

A Winnipeg architectural icon, the old world elegance of a by-gone era is evident everywhere, from the marble-floored lobby with its Corinthian columns and Caen stone walls to its domed dining room. And my room had the most comfortable luxurious hotel bed I've ever slept on, with a big, fluffy down duvet and soft huge pillows on a feather mattress. An added bonus was the 24-hour complimentary freshly-brewed pot of coffee or tea, with scrumptious cookies delivered to your door by room service (no coffee/tea machines in the rooms).

And like many historic buildings, Fort Garry Hotel supposedly has its share of resident "ghosts": a couple (dapper-looking man and lady in white), a Polish immigrant murdered by the chef; and a construction worker who fell down the elevator shaft in 1911. The hotel's owner Ida Albo said some guests request rooms on the second floor — the only place of the reported sightings — just to see who might come "visiting." (My rooms were on the fourth floor.)

As a history buff, I particularly liked the hotel's location. Across the street is the last remains of Upper Fort Garry. A block away is the magnificent Union Station (designed by the same architects of New York City's Grand Central Station). And just a short walk from the hotel — at the junction of the mighty Red and Assiniboine Rivers — is The Forks where Aboriginal people met and traded as far back as 6000 B.C. (Some things never change; today, the Forks is again a vibrant waterfront market area.)
The Links at Quarry Oaks
The next morning we drove 40 minutes southeast to our second golf course, The Links at Quarry Oaks. Rated as one of the best 100 golf courses in Canada by Score Gold Magazine, the 27-hole course has a championship layout designed by world-renowned Canadian architect Les Furber.

Everything about Quarry Oaks is first class. The clubhouse is surrounded by wonderfully landscaped flower gardens and containers. The licensed restaurant offers great dining (my Reuben on the Links was delicious). The pro shop is well-stocked and has knowledgeable staff. Fees are reasonable ($40 includes the cart).

With a feel reminiscent of the best Scottish designs (or so seasoned golfers tell me), this spectacular world class course, with nine holes set in a rock quarry, has Manitoba's only inland Links style layout. It runs through thick northern forests, huge sand bunkers and at times, a desert-like terrain. And my golfing improved as we went along; I was beginning to hit 150-yards down the fairway with some regularity.
Falcon Lake Golf Course
For our next golfing adventure, we headed down to Falcon Lake Golf Course (toward the Manitoba-Ontario border) considered by many to be the premier course in Manitoba; ranked number 30 out of the top 100 Canadian courses. The Par 72 course measures 7049 yards from the back tees. Fees are reasonable; for example, the 2007 seniors rate is only $34 Monday to Thursday.

We overnighted in wilderness cabins at the Falcon Trail Resort; and ... ah ... it was a bit of heaven to soak in the hot tub on the cabin deck, listen to the haunting call of the loon (you never forget the sound once you hear it), and look up at the limitless stars in the night sky. In the morning, it was wonderful to wake up to bird song and the gentle rustling of tree leaves.

In the morning, we met up with Falcon Lake's Director of Golf and CPGA Head Professional, Sandy Kurceba. A golf pro in Australia for over 20 years, he returned home to Canada a couple of years ago. He joined us for the first nine holes. When he heard that I was returning to golf after a 25 year absence, he gave some valuable advice when I went to up to the tee. "Use the 10 finger grip rather than interlocking. Line up the club with the flag. Place the club behind the ball. Stand back. Put your feet together and line up with the ball so it is lined up in-between your feet. Now place your feet apart, step to the left, then right, until you have a comfortable stance. Lean forward, use your shoulders. Watch the ball as you swing up. Don't swivel your body, keep your body straight. Let the shoulders do the work. Then swing to hit the ball."

He had a couple of great tips for new and returning golfers. "I tell them to use tees all the way to the green. And to double the pars on their scorecard. If it is a 5-par, then your par will be 10. Then when you get under it, it's a birdie." Then he added "The main thing is to have fun and enjoy the game."

There's another side to Sandy that kept us laughing — his golf shots as an international trick shot artist. Later, he put on hockey skates (he used to play pro hockey) and did a hilarious one-hour show of amazing trick shots, including hitting off a three-foot tee, a 2-headed 5 iron, and the "Off Your Face" shot where he hits a golf ball from a human tee, (You've got to see it to believe it.)
Why golf and travel are a match made in heaven
In four days, we golfed at three excellent courses in a Manitoba in landscapes that varied from prairie lands, to old rock quarries, to forest terrain and a provincial nature park. Our accommodations ranged from grand hotel elegance one night to cozy remote cabins the next — the ultimate Canadian wilderness golf experience eh?.

And thanks to Sandy, my best game was at Falcon Lake Golf Course.

Did my golf skills come back, just like biking? Yes! But I need a bit more practice — so I'll see you on the golf course in wild and wonderful Manitoba.
---
If You Go Golfing in Manitoba
See Also:
Wild and Wonderful Golf in Manitoba


by Elle Andra-Warner
Aren't golfing and biking somewhat similar? One never forgets how to ride a bike, right? Can we say the same for golf?
Last year, I applied that "bike" concept to golf when I joined a group of friends on a four-day golfing spree in Manitoba — a Canadian province, by the way, that is 18 per cent larger than France.
I hadn't golfed in over 25 years, but was confident that after a few golf swings just — like biking — it would all come back to me.
---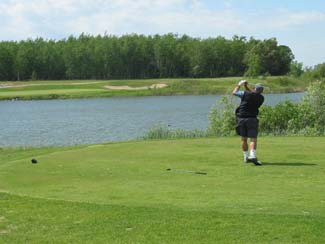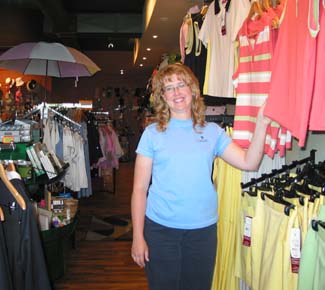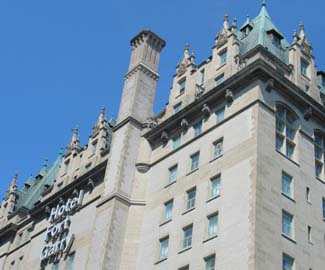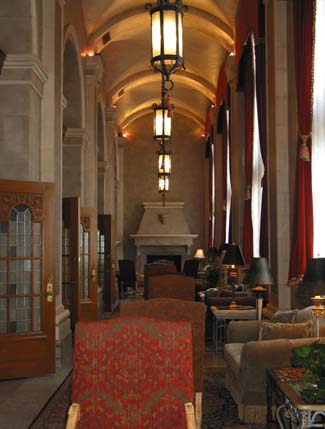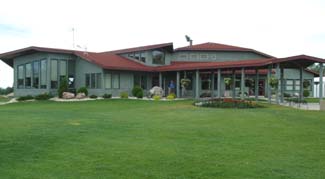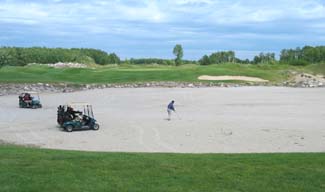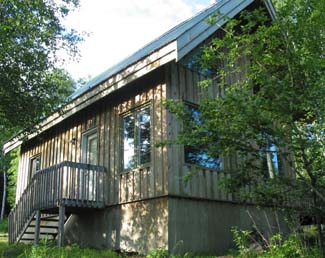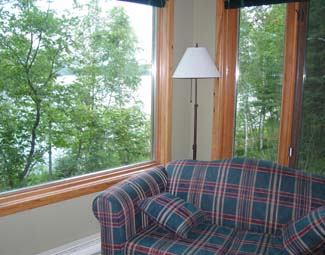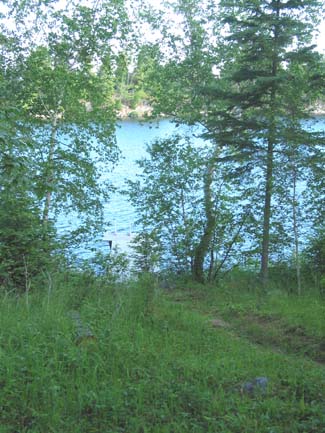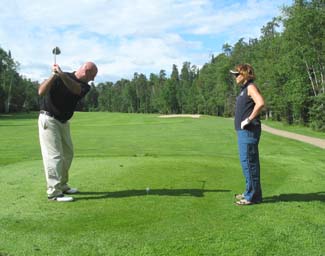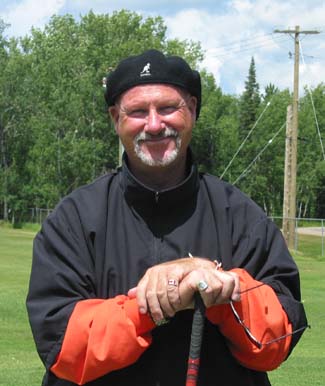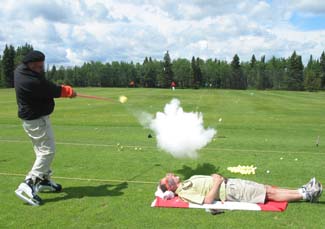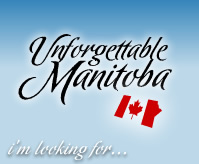 Photographs by Elle Andra-Warner