Songs of Winter
Winter in Québec is not just a season. For the Québécois, it is a grand ritual, an elaborate ceremony, and a state of mind. It is also the cultural internalization of almost 400 years of struggling with — and yet living in harmony with — the land. It is a source of a collective sense of self and a a significant element in the self-determination of this Canadian province which is distinct on so many levels.

Many of the artists of Québec imbue their work with a healthy respect for this formidable season. One of Québec's best-loved chansonniers (poet-singer-troubadours ... and often superstars) was Félix Leclerc. In his hymn to winter, Soirs d'Hiver, (Winter Evenings) he gives a glimpse of how winter has become part of the Québec psyche.

Les soirs d'hiver, ma mere chantait
Pour chasser le diable qui rit;
C'est a mon tour d'en faire autant
Quand sur mon toit coule le vent.

On winter evenings, my mother sang
To chase away the laughing devil;
Now it is my turn to do the same
Each time I hear the wind in the eves.

The beauty of winter in Québec's Laurentians is not only in the splendour of a natural environment that surpasses all expectations, but it is also in the interaction of the people who have not forgotten the communal values and skills that are their ways and means of physical and cultural survival.

The oft-repeated term joie de vivre is indeed integral to the Québec way of life; however, I always take that term one step further to l'art de vivre.

Québec's Laurentian playground — especially in the winter — is about community, and the interdependence of human relationships. It is about survival and la belle énergie that is the heartbeat of the true human village.
---
A visit to the Laurentians is "a moveable feast." Allow me to offer you a few appetizers.
---
Geology and time have been good to the Laurentians
For travel journalists, the way in which landscape shapes culture is a recurring theme and lesson. Moreover, despite our well-founded concerns about an over-crowded planet, we are fortunate now and again to discover (or re-discover) areas of peace and tranquillity — and spaciousness.

In the Laurentians — 22,000 square kilometres of natural beauty — you will discover a rugged landscape that, by its very nature, has preserved "the natural order of things." And this includes a pace and quality of life that increasingly we see dissipating.

This is Le pays d'en haut. As is often the case, the term defies a suitable translation. It means something like "the land up there" or "the highlands" or "away and beyond." But the experience of the Laurentians has always been a multi-levelled one; an experience of something much deeper conceptually and — dare I say it — spiritually.

The Laurentians contain 9000 lakes and rivers, three enormous and separate regions (the Laurentian Gateway region within easy access to Montréal; the Laurentian Heartland; and the Upper Laurentians), and an integrated network of towns and villages, each of which has its own particular flavour and idiosyncrasies. In my experience of visiting Québec for over 40 years, this ease of self-expression is very typical of the province, one of the most liberal and free-thinking "communities" in North America. And the rigorous but permissive landscape and topography of the Laurentians enhances this cultural trait.

These are very old mountains; part of the famous (Precambrian) Canadian Shield. These are not the soaring and grandiose mountains of the Canadian Rockies (upstarts really); these are ancient mountains that have endured the ancient and ceaseless grinding of glaciation, a monumental process that eventually created a rather subdued topographical relief. This is one of the oldest physical landscapes on the planet; and an environment that nurtures a free spirit embellished by wisdom.

These ancient rocks are the Earth unclad. Covered by a thin layer of soil, this is planetary bedrock that was the first to be permanently elevated above the sea. And the titanic geological forces that created this land, and its many small lake basins and rivers, also left behind a boreal forest that is home to abundant flora and fauna.
---
The Auberge du Lac Morency: hospitality spoken here
As a guest at l'Auberge du Lac Morency, I became an instant happy camper. I immediately felt chez moi — as if I had refused to acquiesce to the maxim that "you can't go home again." You probably have experienced a similar holistic feeling of familiarity and ease somewhere in your travels.

The village-like comfort zone of the Auberge is quite typical of the Laurentians. With one notable exception, the Laurentians have succeeded in repelling the mega-corporate, mega-resort mentality. And the human scale amenities and aesthetic finesse of l'Auberge du lac Morency are in many ways what the Laurentians are all about.

Clustered around a small non-motorized lake less than an hour from Montréal, the Auberge is also a role model for the kind of full-service medium-sized resort that is able to combine a sense of being "away from the madding crowd" while at the same time combining a sense of privacy with a discreet sense of community. (The term for "resort" in French is villégiature; hence the theme of the village.)

For students of the hospitality industry, a work term at l'Auberge du lac Morency would be the most experiential learning they could have in order to learn the craft. My enthusiasm for the Auberge stems from its exquisite setting but also because of the people who live and work there.

Leading the team of dream makers at the Auberge is the affable Director François Péloquin; hôtelier par excellence, learned and well-trained sommelier, highly informed nature enthusiast, and general all-round good guy. I'm told they often refer to him as le coureur de bois.

François is a natural when it comes to the hospitality industry, and his happy, motivated, and adept staff reflect his dedication to the best practices of this industry. He is the kind of host who oversees everything with a eagles' eye but also, as a team leader, he encourages his staff to accept ownership of their work. He is also a great conversationalist; English or French ... your choice ... but I'm not sure in which language he talks the fastest ... we slipped back and forth between the two without my knowing it. However, he also has the hôtelier's intuitive sense when to "let it be."

There is much I could tell you about François, his staff, and the Auberge — his amazing wine cellar, the carefully orchestrated operations, the suitability of the property for group functions — but I will let you discover more from the website; or just by going there.

However, I must rhapsodize briefly about the cuisine and the brilliant chef Daniel Saint-Pierre. I have had the good fortune to dine well around the world (especially in France), but I can say without any hesitation that I have not dined better anywhere else. The artistry of Daniel is, as we say in French, sans pareil (without equal).

The virtuosity of l'Auberge du lac Morency is also characteristic of the lifestyle that is within easy reach in the Laurentians. During my stay, I was reminded of a promotional slogan from the Québec Tourism department a few years back: Hospitalité Spoken Here!

SynoviaSpa at L'Auberge

In the European tradition of health-enhancing spas in beautiful natural areas, l'Auberge has a superb spa operated by Pascal Groleau. To visit the spa click on the link above. To hear my conversation with Pascal, click on the following audio icon.
---
Saint-Sauveur: a blended community
Unbridled growth is not what the Laurentians are all about; smart growth is the only way to go in this vast natural area. Like so many "tourism" destinations, sustaining a viable local economy that also allows for the sustainable growth of natural resources is a challenge but also common sense. The principle of sustainability is at the heart of the Laurentian experience, whether it be a question of human resources or natural resources.

The town of Saint-Sauveur (within an easy hour's drive from Montréal) is in the Laurentian Gateway Region. As is happening elsewhere in the world, it also has become an alternate "satellite city" close to but distinct from a larger metropolis; in this case Montréal. It is not a bedroom community to and from which people commute on a daily basis; but is increasingly becoming a lifestyle choice. As a result, it has developed into a thriving, multi-faceted municipality that has succeeded in creating a state-of-the-art business community while maintaining a small town ethos.

Saint-Sauveur has always been a very popular all-seasons vacation destination, especially for Montréalers, and as the closest ski destination to Montréal it is especially popular. If you want ease of access, variety, and laid-back skiing that won't cost you an arm and a leg, head to Saint-Sauveur and it's five mountains. By the way, the Ski à Mont-Sauveur experience also includes the most extensive night skiing in the Laurentians.

Located in the Piedmont Valley, Saint-Sauveur, as I discovered, is still very much a "village" in terms of human interaction and a no-nonsense approach to quality of life issues. Saint-Sauveur is also experiencing a carefully controlled boom time, especially with regards to it being an attractive corporate conference and convention centre. As one who has been on the organizing end of conferences, I can highly recommend the Manoir Saint-Sauveur, an elegant and very contemporary award-winning hotel with some of the best convention facilities I have seen — and within walking distance of la Rue Principale with it's many shops, restaurants, and heritage buildings.

Saint-Sauveur has also become a major arts centre and destination. It is now known and respected worldwide for its Festival des Arts an international event that attracts world-class performing arts groups, orchestras, and especially dance. The festival celebrated its 10th anniversary in the summer of 2006 which showcased Jirí Kylían, considered one of the world's leading choreographers. Saint-Sauveur is also a role model for communities who have discovered that the arts are an industry that, in partnership with the travel, tourism, and hospitality industries, has a direct impact on the community's bottom line.

I was having lunch in the Manoir's aptly named restaurant L'Ambiance — a gourmand buffet actually — with Pierre Urqhuart, President of the Chamber of Commerce. (By the way, in Québec it's not unusual to encounter names that reflect the French, Scottish, and Irish immigration patterns to Québec.) We were chatting about all that Saint-Sauveur has to offer when Pierre casually mentioned that after lunch he was attending the retirement reception of Soeur Élisabeth, a nun who appears to have taught just about everyone in Saint-Sauveur to sing. Along with being the most sports-oriented of all Canadians (remember that terrain) the Québécois are also the most musical. They love to sing, and to teach others to do the same; hence Sister Élisabeth's long career. So I asked Pierre if I could come along.

The réception was actually a Christmas recital in the church on Main Street, a solid granite church built in the very distinct style of small town churches you see throughout Québec. For this occasion, it was full of multiple generations of locals, all of whom it seemed had been voice-trained by the diminutive Soeur Élisabeth. The good sister, by the way, is five feet in her stocking feet at most, but also the the kind of choir mistress one would pay strict attention to. Sister Élisabeth and her other sister nuns occupied the front pew and with great delight watched and listened to the youngest members of the parish celebrate the accomplishments of this nun d'un certain âge.
Val David: creativity and fire in the Laurentian belly
Regions of great natural beauty are often magnets for artists; and this is true of the Laurentians, especially the village of Val-David.

This is a community that gently proclaims itself to be un monde à part et à partager (a world away and one to be shared). This ethos is very much at the heart of the village, as it is in many other such communities throughout the Laurentians. But in Val-David, they have really taken the belief system to heart and practise what they preach with a quiet determination and respect for what the mayor referred to as "a marriage between the arts and nature."

Val-David in some ways suggests a Québécois archetype, the rural community that was of necessity a world unto itself because of its geographic situation. It is a community whose history clearly shows the interdependence that developed among its members and how the integration with the stunning natural world around it became the antidote for any feeling of isolation. This, I believe, is what led to a collective vision that is very much supported and promoted by the elected municipal officials who are as engagé in the arts as the many artists and artisans who have migrated to Val-David. Here too the arts "industry" is the economic foundation of the community as well as a natural "product" of the landscape.

It should come as no surprise therefore, that such a community would also have a long tradition of story-telling, of oral history, and of personal and communal archives. Val-David's collective vocation is to preserve the fundamental principles and values that made this town 76 kilometres north of Montréal a world apart. And perhaps the most important of those basic values is the generosity of spirit — the openness to diverse worldviews — that is communicated almost subliminally to the visitor to Val-David.

Hearing it first hand

I was privileged to dine with one of Val-David's most learned and genial spokespersons, Claude Proulx. Claude is a local historian, author, and leading member of the Val-David Society of History and Heritage.

A chat with Claude Proulx

The art of land management

The town of Val-David has become an arts mecca and, in some senses, a refuge. Embraced and nurtured by the environment in which it lies — a valley of over 40 square kilometres, old mountains with their gently rounded summits, an intricate network of small lakes, rivers, streams, and regenerative forests — this is a stupendous and nurturing physical landscape but not one that overwhelms the senses. These are not young, soaring mountains and impenetrable forests. This land has aged well; it has achieved the respected status afforded eldership. Like most of the Laurentians, you feel comforted by this terrain. This is why I am hypothesizing that artists find Val-David particularly supportive and liberating.

The people of Val-David take their nature seriously, protect it, and interact with it in a similar way to that of aboriginal people who do not let the passage of time separate them from the spirits of their ancestors. This commitment to the land is especially evident in the Regional Park Dufresne, an extensive tract of land set aside for public enjoyment, and especially attractive to hikers and cross-country skiers. This is a public area however, where a very clear environmental ethic is practised and encouraged.

From an arts perspective, Val-David may surprise you. In a subtly renovated heritage building on the main street, I found an art gallery with dark, rich wood floors and white walls on which were displayed in a current exhibit of contemporary paintings that celebrated childhood; a very apt marriage of young and old.

In the summer Val-David hosts one of the most important pottery, glass, and ceramics exhibitions on the continent; the Mille et un Pots (A Thousand and One Pots). The event, which is the largest in North America is hosted by the Japanese-born ceramist Kinya Ishikawa. But it is also a huge family affair within this particular part of the art world. As a fan of ceramics especially, I was delighted to see some very original and contemporary pieces that demonstrate why this is a unique art form. I was also privileged to visit a pottery-ceramics class for young people with learning disabilities for whom this very tactile art form is an alternative way for them to communicate lives.

A metaphysical glass blower

In Val-David, I also met a poet-artist-alchemist and young "philosopher king," Jonathan Léon.

This is a short video of Jonathan in mid-creation.

And this is Jonathan talking about his art.

You can visit his website, a work of art in itself, at www.lolipop.ca
---
Québec's Laurentians:
Sensing the belle énergie of the village
by Bob Fisher

Two of my favourites maxims are: "The only real change occurs in the village," and "It takes a village to raise a child."
The village at the heart of the Laurentians is both literal and metaphysical; real and conceptual. It is also the quintessence of the Québécois experience — especially during the winter.
In Québec's famed Laurentians, that experience is also a feast for the senses
---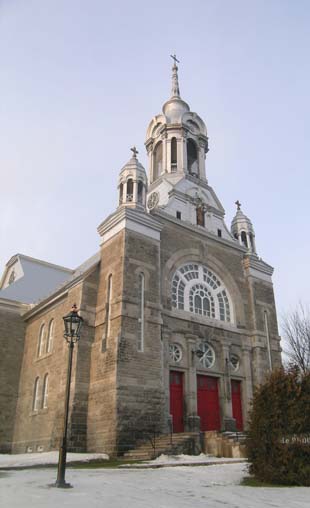 ---
Laurentian Resources
The Laurentian Tourism Association

Toll free number: (Canada and the U.S.) 1-800-561-6673

L'Auberge du lac Morency (Resort, Spa, and Conference Centre)

La Vallée de Saint-Sauveur Tourism

Festival des Arts de Saint-Sauveur

Manoir Saint-Sauveur Resort and Convention Centre

Le Centre d'Exposition de Val-David
---
Why the Laurentians are an enduring experience
This prodigious land and its physical and cultural landscape are in many ways a microcosm for the heritage of the Québécois.

The language and culture of Québec continue to flourish against formidable odds; they have survived what has been referred to as la marée de la culture anglophone dans l'Amérique du nord (the tide of English-speaking culture in North America).

Québec has a total population of just over seven and a half million people of which 82 per cent are francophone — whereas the primarily English-speaking culture of Canada and the United States combined comprises about 145 million people.

Through persistence and a strong collective sense of self, this predominantly French-speaking part of North America is very much alive. And at the heart of the magnificent and vigorous Laurentians you will experience the self-sustaining values of the human village — Québécois-style.
---
Mea Culpa... but Call me Mr. Cool
As is the case with any major tourist destination, there are increasingly "issues" that can create culture clashes. Québec is the traditional home to the snowmobile (invented by the famous Bombardier company). Given the terrain, climate, and vast distances of the Laurentides, it's quite understandable why "skidoos" and all-terrain vehicles became popular here. However, the movement towards a Laurentians that is non-moteurisé is picking up speed (pardon the play on words) and there are communities in the region that have passed such bylaws. It is a dilemma, especially for me who prefers a nice quiet canter on my horse, but also is not opposed to thrills and chills.

But I have to be honest and tell you that I did the ATV thing — and it was a blast, even though it meant some initial personal humiliation. Oh, and I plan to atone for the greenhouse gases I created somehow.